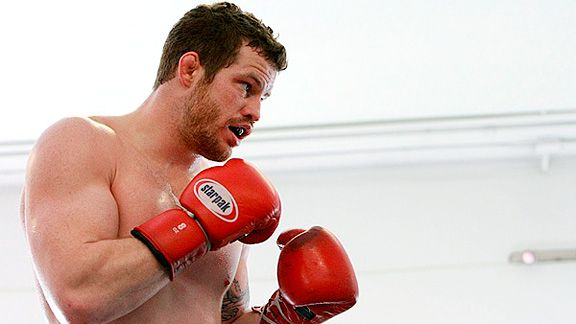 Dave Mandel/Sherdog.com
Nate Marquardt needs a win on Wednesday to reinstate his status as a middleweight contender.
A little nip here and tuck there, and it's entirely possible the UFC will one day broadcast biweekly or weekly fight cards, completing its assimilation of the pro-wrestling market. Shave down those 10- or 11-bout pay-per-views, absorb the WEC and recruit some of the global talent the promotion is grooming for international expansion, and you have at least 26 weeks of programming.
Until then, you'll have to settle for Wednesday's broadcast of UFC Fight Night 22, headlined by Nate Marquardt mixing it up with Rousimar Palhares. Marquardt was last seen suffering a debilitating, contender-nicking loss to Chael Sonnen; Palhares drew some heat for cranking a submission on Tomasz Drwal after a tap. Although Palhares has lost only once in the Octagon -- to Dan Henderson -- the rest of his opposition has been less than stellar. Marquardt represents a quantum step in competition since the Henderson fight. The story of how Palhares responds to those new demands on his abilities is probably the most intriguing of the night.
What: UFC Fight Night 22, a 10-bout card from the Frank Erwin Center in Austin, Texas
When: Wednesday at 8 p.m. ET on Spike
Why you should care: Because Marquardt has an opportunity to re-establish his credibility as a 185-pound contender; because 13-0 Charles Oliveira will learn when he faces Efrain Escudero whether his impressive record is the result of talent or underqualified Brazilian opposition; because if Jim Miller defeats Gleison Tibau, he probably will be in the sights of the Gray Maynard-Frankie Edgar winner; and because, really, what else is there to do on a Wednesday night?
Fight of the night: Ross Pearson-Cole Miller, which involves aggressive striking (Pearson) frustrated by significant reach (Miller).
Hype quote of the show: "The thing is, he's getting all decisions, and his one stoppage was over Aaron Riley, and it was a cut stoppage. He wants to score, then clinch, and score and clinch. I'm sure this guy's got knockout power -- he's built like a tank -- but it just doesn't seem like he's really down to put forth that type of commitment to ending a fight. I think this is bad for the sport; it's bad for the UFC." -- Miller on Pearson to UFC.com.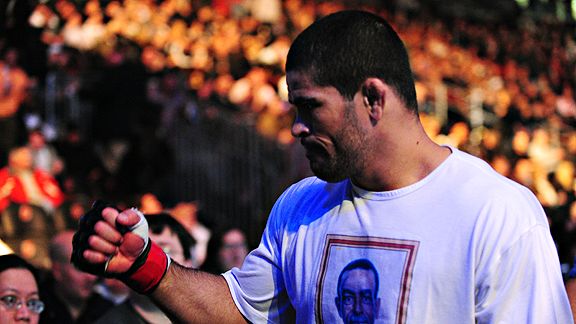 Martin McNeil for ESPN.com
Rousimar Palhares might already be on the bad side of Wednesday's Fight Night audience.
Red ink: Marquardt versus Palhares
Even in a sport known for bursts of gore, the idea that an athlete would step outside the boundaries of regulation to inflict unnecessary harm is treated with scorn. Prizefighting is a pretty deliberate crime scene, and random violence isn't welcome.
Palhares took his hits after cranking a submission on Tomasz Drwal in March, earning a 90-day suspension and the stink-eye of observers who recoil at unfair or excessive behavior. Whether that translates into his playing the heel during Wednesday's main event against Marquardt is up to the arena audience.
Unfortunately for Palhares, folks probably have their minds made up. Marquardt is one of the more likable contenders around -- unfailingly polite, mannered and respectful of his opposition. He can hit, he can grapple and his head is screwed on straight thanks to a relationship with trainer Greg Jackson. He's probably the most well-rounded middleweight to never earn a UFC title.
If he wants to re-enter that discussion, he'll have to figure out a way to remain safe on the ground with Palhares -- a tenacious submission man -- while avoiding his power and attitude in stand-up. This is a winnable fight for Marquardt but won't be in any way fun for him.
Might look like: Marquardt's bout with stifling jiu-jitsu artist Thales Leites, Marquardt's second loss in the UFC.
Wild card: The bout was originally scheduled for an Aug. 28 UFC event. Will the two-week delay affect either athlete's ability to peak on time?
Who wins: Marquardt has more tools in the shed -- and more to lose. Marquardt via TKO.
Tweet, tweet
Don't miss a moment of the latest MMA coverage from around the world. Follow us on Twitter and stay informed. Join »
UFC versus Strikeforce: weighing the heavyweights
Announced Monday, Strikeforce's commitment to Josh Barnett puts an end to his stretch of semiobscurity following a positive test for banned substances in August 2009. It does not, however, conclude the debate over which promotion -- Strikeforce or the UFC -- has the superior heavyweight division. It might, in fact, just make things worse.
The pro-UFC contingent will say (correctly) that a chunk of Strikeforce's roster is made up of fighters who delivered mixed results in the Octagon: Andrei Arlovski (a former champion), Fabricio Werdum and Mike Kyle. Alistair Overeem, although fit enough to enter a bodybuilding contest, hasn't yet proved his skills against a significant heavyweight. Fedor Emelianenko is a question mark.
The UFC has a monopoly on boxer-wrestlers such as Cain Velasquez and Shane Carwin as well as barely disputed Brock Lesnar. Struggling Mirko "Cro Cop" Filipovic handled Barnett on multiple occasions. (The oddball spectacle has been well-represented in both promotions by James Toney and Herschel Walker: Call it a tie.)
The argument really comes down to a comparison of fading stars from the past decade to talent groomed to be competitive in a ruthless environment: Pride stars such as Emelianenko and Barnett alternated tough bouts with nonsense, whereas UFC athletes are expected to perform at a high level on a constant basis. In a head-on collision, I would expect Velasquez, Carwin and Lesnar to give Barnett, Werdum and Emelianenko a very hard time -- if for no other reason than their being used to constant resistance.
We know Barnett-Emelianenko is the most interesting possible outcome of the signing, but it's likely we'll be made to suffer through Barnett in some insipid "building" of the new hire in order to get audiences familiar with him. This rarely works -- fighters set on a course for one another usually wind up losing prematurely -- and no one ever stops to think that a good pregame show and some media would have the same effect.
Ultimately, it's not really about the volume of contenders but about the promotion's ability to sift through the filler and put on competitive matches. Lesnar and Velasquez will fight in a month; Lesnar just fought Carwin. Things are moving there. Hopefully the same will prove true of Barnett, Werdum and the rest. Talent needs to fight talent.