Notes and Nuggets: Denver edition
August, 9, 2012
8/09/12
7:27
PM ET

By Chuck Mindenhall
ESPN.com
Archive
DENVER -- There was an air of "next thing's first" at the UFC 150 news conference at the Fillmore Auditorium. Though
Donald Cerrone
will face his friend
Melvin Guillard
in the co-main event on Saturday night, Cerrone used the platform on several occasions to talk about fighting
Anthony Pettis
.
And Guillard still wants to avenge his UFC 136 loss against
Joe Lauzon
, saying he was overzealous in that bout.
As far as the thoughts on fighting each other? It was all compliments. Guillard told the media he was star struck when he first trained with Cerrone, and that when the call came to fight him he had to accommodate him.
"The first thing I thought was, the least I could do is show up for [Donald], that way he can fight in his home town," he said. Two or three others had turned the fight down [including Pettis], so Guillard wasn't about to leave Cerrone hanging.
"Cowboy" was equally complimentary.
"It's all about money to me and him," Cerrone said. "We're good friends but by no means is that going to hold us back. We're going out to draw blood and to get some and get paid."
This drew applause. The idea of a couple of explosive friendlies going in there to duke it out and then shake hands afterward makes for a lot of fun. Guillard knows Cerrone is capable of taking him down and making it a long night, and Cerrone knows that Guillard throws anvils. Both expect it to live up to the billing, even if there isn't exactly a gentleman's handshake to keep the fight standing. They made it clear that this was a for mercenary kicks.
[+] Enlarge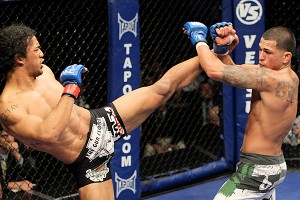 Josh Hedges/Getty ImagesBenson Henderson, left, wants another crack at Anthony Pettis, but he might have to wait until Donald Cerrone gets his turn.
Clearer still is that Cerrone doesn't like Pettis, and Guillard didn't like his performance with Lauzon. Now Guillard and Cerrone stand in each other's way to getting the fight they want. Pettis would be Cerrone's reward, and Lauzon would be Guillard's.
And Cerrone, who's been vocal all week about Pettis ducking him, didn't miss the chance to pour it on when the microphone was hot. When asked if he was even motivated for a title, or if he was content staying busy and making money, he said, "as far as sitting and waiting like Pettis, and hiding, I don't want to do that, I want to keep fighting."
Earlier, when a media member asked lightweight champion Henderson if he thought he had to beat Pettis at some point, Henderson had Cerrone in his ear.
"I think Cowboy said he has [Pettis] first," Henderson replied. "At some point in time we'll meet inside the cage again. Before I retire, we will dance inside the cage again."
Maybe so, but by the end of the news conference, the people in the audience seemed far more excited by the notion of a Cerrone/Pettis showdown than they did of a Henderson/Pettis rematch.
Guillard in familiar territory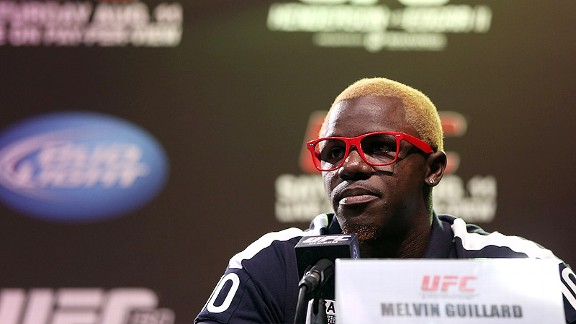 Josh Hedges/Zuffa LLC/Getty ImagesFamiliar role: Melvin Guillard has played the sizable underdog before.
This isn't the first time that Melvin Guillard has stepped up and taken a fight on fairly short notice that he was a sizeable underdog in. There was that business with
Evan Dunham
back in early 2011 in Texas, when Dunham was a sort of
Rory MacDonald
-type figure at 155 pounds.
Kenny Florian
had to pull out of the main event with an injury, and Guillard signed on. He told everybody beforehand that he was going to knock Dunham out, and -- much like is happening here with Cerrone -- there were plenty of wait-and-see snickers.
Where the situation feels even more familiar, though, is in Guillard's demeanor. He has a calm confidence about him heading into this Saturday's fight with Cerrone that is reminiscent of that "Fight for the Troops" card.
"It does has similarities to the Evan Dunham fight," he told ESPN.com. "Going into that Dunham fight, I was the underdog, and people thought he was the next big thing. I'm pretty sure there's a lot of critics out there who think I'm about to go down to Donald, and I just want to come right out of the gate and smack him in the mouth and see where it goes from there. I don't care what anybody says -- I can knock a bull out if I hit it right, so I'm going to go in there swinging."
As far as his frame of mind?
"I'm very loose," he said. "I'm very confident in my skills. I know what I bring to the table. I know I'm a dangerous fighter, and I just want to bring the fight to Donald on Saturday."
Bendo wants to fight everybody -- at 155 at least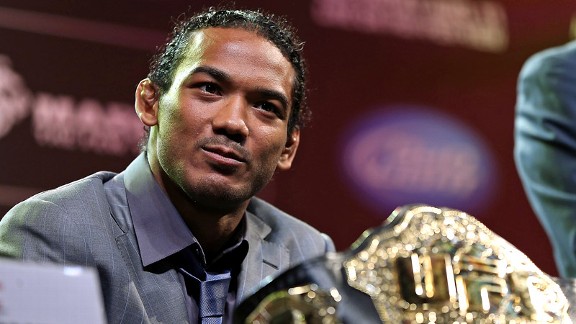 Josh Hedges/Zuffa LLC/Getty ImagesBenson Henderson is gunning for total domination at lightweight, but welterweight is another story.
A fan asked Benson Henderson and
Frankie Edgar
what their thoughts on
Nate Diaz
was, since Diaz is waiting in the wings for the winner.
After much of the news conference was centered on fighters dodging each other, Henderson was quick and to the point.
"Nate Diaz is a tough fighter, he's good, and he brings it every time he fights," he said. "I said it before, and I'll go ahead and say it again so you understand me -- I want to fight everybody in the division. I want to beat everybody. That's it, man."
That's in the division. The next question was if he has ever considered competing as a welterweight.
"No, never really thought about welterweight at all," he said. "For me, 155 is my division. I want my name to be synonymous with 155 for the next 10 years, or five years, or how much longer I fight. And at welterweight -- have you seen those guys? They're huge. They are ginormous. I'm big for lightweight, but have you seen [Georges] St. Pierre in person? Check out
Georges St. Pierre
in person and tell me you want me to fight him. You want me to get beat up? Come on."