By now you've probably read a number of reactions to the Chael Sonnen hearing that took place Thursday. Sonnen, who was condemned for testing positive for synthetic testosterone before his August fight with Anderson Silva, argued that he had abnormally low levels that required such treatment. Mark Czarnecki, an Oregon-based osteopath who treated Sonnen, insisted the fighter would be unfit to compete otherwise.
[+] Enlarge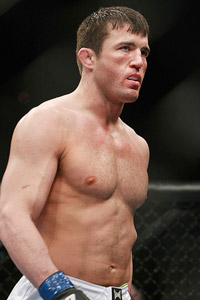 Dave Mandel for Sherdog.com
Whether or not Chael Sonnen knowingly used a banned substance, he handled his explanation of the facts all wrong.
That's as succinct a summary as you can make of a case that harbors dozens of inconsistencies, oversights and confusing regulatory policies. Sonnen has found himself in a situation that's so cloudy and ill-defined that it's impossible to assess "guilt."
Is it cheating if your testosterone treatment only returns you to baseline normal levels of the hormone? Was Sonnen being disingenuous when he did not disclose his use under the accepted protocol for doing so? (He allegedly failed to note his condition to the event's examining physician.)
If I had answers, I would charge for the lecture. But after watching the hearing, I'm only able to raise additional questions. Consider it more kindling for the fire.
"Nobody's ever explained to me testosterone is a steroid -- a frowned-upon steroid."
This was Sonnen's claim on the heels of a discussion about whether the commission's request to disclose "prescription medication" could be misinterpreted. Steroids are synthetic hormones and other substances designed to manipulate the body's natural system. Artificial testosterone is not only a member of that group but also possibly the kingpin. And on that note ...
Ignorance is not an acceptable defense
At various intervals, Sonnen claimed he didn't wish to be "redundant" in disclosing his testosterone use because he had informed the UFC's house doctor, the California commission and the Nevada commission. He didn't believe that he had to repeat it. (California claims to have no record of this; Nevada's Keith Kizer told ESPN.com's Josh Gross that he has never spoken to Sonnen about testosterone or hormone replacement.)
Avoiding redundancy would have been for the fighter to inform the questioning physician that he already had confirmed therapeutic use and didn't wish to explain himself twice. Instead, Sonnen allegedly said nothing. No one enjoys repeating themselves over and over, but Sonnen -- a onetime political candidate -- surely understands how tiresome red tape can be. Better to be safe than sorry.
The doctor
Czarnecki claimed Sonnen came to him in January 2008 with complaints of fatigue, mental fog and endurance issues -- all the result of low testosterone or hypogonadism, according to Czarnecki.
When tested, Sonnen's levels were 370 ng/dl, the low end of normal. (What constitutes "normal," however, varies widely from doctor to doctor; some studies and physicians argue that hypogonadism shouldn't be diagnosed until you reach a basement measurement of 300 ng/dl or lower.) Czarnecki had little explanation for why a patient whom he said should be tested every few months during his initial treatment (and perhaps every six to 12 months thereafter) had only two lab results in a nearly three-year period.
In any case, Sonnen was prescribed injectable testosterone. Fair enough. But when Sonnen was tested in June 2010 during a Czarnecki follow-up -- one of the two tests he was able to file with the commission in a timely fashion -- his testosterone level was allegedly a piddling 111 ng/dl.
Sonnen says the problem was recurring. But how would he know what the problem was before seeing Czarnecki? And if he did have awareness of hypogonadism before 2008, why hadn't he received treatment for it? If he was suffering from conditions as varied as exhaustion, brain fog and weakness, how did he manage to win three of four fights in 2007?
None of this is intended to either incriminate or exonerate Sonnen, primarily because I'm no trial lawyer and there's a concrete possibility he has a legitimate medical condition that requires exactly the treatment prescribed.
Still, although Sonnen's claim might be legitimate, his method for expressing it might not have been.