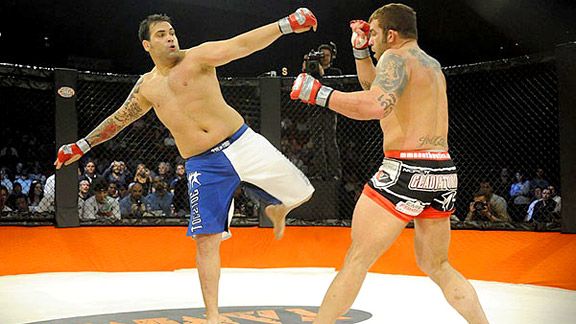 Peter Lockley for Sherdog.com
Ricco Rodriguez seems to be winning the battle of the bulge, but there still is work to be done.
By the time you read this, Ricco Rodriguez will either be making his way to a ring in Tel Aviv, Israel, or coming out of it -- one day after missing the 205-pound weight cap by 10 pounds.
Rodriguez has been one of the more put-upon athletes in the sport since 2003, when he lost his UFC heavyweight title to Tim Sylvia. Massive weight gain, alleged drug problems and suffering through the sanctimonious, predatory "counsel" of Dr. Drew Pinsky on "Celebrity Rehab" followed. Even though it was largely his own doing, you still have to feel a little bad for the guy.
Recently, Rodriguez has been looking fit in an attempt to settle into the light heavyweight division. But it's not an all-or-nothing proposition. Why not lose the weight and remain a heavyweight? The practice of shoehorning into a lower weight class because a fighter feels he can squeeze every last advantage out of a fight is a shaky one. So he won't be outweighed. OK. What about feeling slower? What about standing on shaky legs from a radical weight cut? Rodriguez's reinvention is admirable, but maybe it shouldn't involve getting rid of any more of himself than necessary.
The failed cut points to a second epidemic in MMA: a reduced amount of professionalism in smaller promotions. Rodriguez came in heavy, paid his opponent 20 percent of his purse and apologized. Great, right? But no amount of money or kind words is going to substitute for the fact that Dan Tabera now has to deal with a guy who seemingly didn't put in quite the same effort to make weight as he did. A similar incident happened several weeks ago, when Murilo Rua took a catchweight fight against a guy who showed up heavy. It's a predatory thing to do. No fighter wants to waste time and training, so he is likely to accept the fight anyway. Rua did, and lost.