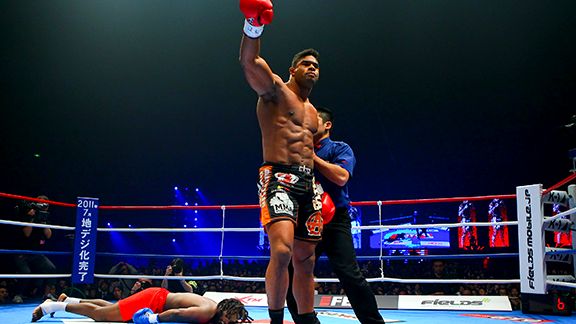 Daniel Herbertson/FightWireImages.com
Alistair Overeem might look the part of world's best heavyweight, but is he the real deal?
Bas Rutten believes he's the world's No. 1 heavyweight; Sherdog.com has him ranked at No. 8. In a sport full of argumentative fans, mentioning Alistair Overeem might be the quickest way to incite a riot.
Tweet, tweet
Don't miss a moment of the latest MMA coverage from around the world. Follow us on Twitter and stay informed. Join »
Overeem, a highly proficient kickboxer with a credible submission game, was originally an uneven light heavyweight who mixed solid wins (Vitor Belfort, Igor Vovchanchyn) with definitive losses (Mauricio Rua, Chuck Liddell). His handicap was apparently a struggle to meet the 205-pound cap, which he resolved by moving permanently to heavyweight and putting on what appears to be 30 to 40 pounds of muscle. If Muscle and Fitness lacks a Holland edition, it's not for lack of subjects.
Overeem has proved himself capable in the division, largely by beating the kind of opposition Japan dials a few weeks before an event: Tony Sylvester, James Thompson and a fading Kazuyuki Fujita. (To be fair, he bookended the routs with good wins over Paul Buentello and Brett Rogers.) He's big and scary and can compete in a K-1 kickboxing ring without embarrassing himself.
The idea of Overeem is so potent that it can apparently make a good substitute for actual results. Turn up the hype loud enough and you might drown out the fact that he hasn't actually done much to warrant his reputation.
As Sherdog's No. 8 heavyweight, he's the only man on the list with more than four losses. (11 to date.) As a Strikeforce champion, he went two years without defending -- then, incredibly, against a fighter (Rogers) coming off a defeat. As a K-1 contender, he's never once won a tournament, reaching a high of splitting two meetings with Badr Hari.
Overeem is a character flirting with caricature. He mugs pleasantly for cameras -- mostly in Japan -- where he's seen filling up a shopping cart with meat, sending TV hosts flying with knee strikes, and using docked ships as deadlift material. He has the appearance of an evolved combat athlete.
The problem is that perception in the sport isn't -- or shouldn't -- be about potential. Brock Lesnar, for all his insane athleticism, spent most of his past two fights on his back and frantically trying to turn the tables. Demian Maia has some of the best jiu-jitsu in the world, but didn't escape the first minute against Nate Marquardt; Shane Carwin is every bit the wrecking machine Overeem represents, but collapsed after a round. You don't know until you know.
The promise is undoubtedly there: More than anyone to date, Overeem has a skill set that puts him within reach of becoming the sport's first and only triple-crown winner. He could win a K-1 tournament; he's already won a major MMA title; he might, with a couple years of prep, enter an Abu Dhabi tournament and use that ridiculous power to stifle submission attacks. That's not impossible. It's just a sketch on paper. Could, might, should.
I enjoy watching Overeem fight. Like Lesnar, he's got that intangible "Superman" quality that makes you want to pull friends over to a TV so they can get a load of him. No one else has the same combination of raw power and technique in the heavyweight division. But it's not enough to look the part. You have to live it.