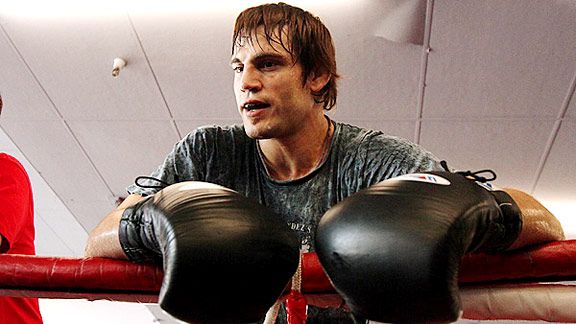 Dave Mandel/Sherdog.com
Jon Fitch clearly is the UFC's top contender at welterweight, so why can't he sniff a title shot?
Percentage-wise, Jon Fitch has had one of the most storied and accomplished careers of any UFC fighter. A record of 13-1 in the promotion is an incredible achievement. If 12-0 Anderson Silva's next two fights involve Vitor Belfort and Georges St. Pierre, it's entirely possible he won't be able to match it.
All of this should make Fitch a perennial contender, and he is -- but that's not without some hesitation on the promotion's part. After a dull decision win over Thiago Alves in August, the UFC withdrew a "guaranteed" welterweight title shot promised to the winner of the fight. Instead, Fitch will fight Jake Ellenberger on Feb. 5. Meantime, St. Pierre will fight Josh Koscheck in December, Jake Shields next year, and possibly Silva later on. Even if Fitch beats Ellenberger, he won't get a sniff of the belt until 2012.
The part of me that's largely uninterested in Fitch's sarlaac-pit style -- he slowly envelops opponents, pinning them down in endurance fights -- has no problem with the UFC's decision to deny him. The part of me that believes results should be valued over everything else does.
Fitch probably should have fought Shields to determine a clear top contender -- Shields faced Martin Kampmann in his UFC debut -- but instead he's more or less treading water with Ellenberger, a fine fighter who is nonetheless not in the top-five mix. That Fitch will someday capture the belt is almost a foregone conclusion, but I wonder if his patience won't give out before his body does.