Jingoism -- that is, rooting for a fighter's head to get bashed in solely because he's not American -- is not something MMA has ever brought out from the viewing public. Just the opposite: If you can fight and the crowd likes you, it'll root for you over the apple pie-fed athlete.
Georges St. Pierre is a huge star; so is Anderson Silva. They've both been cheered over U.S.-born farmers and math teachers.
Michael Bisping is the exception. Roughly half of his 12 UFC fights have come outside of the U.S., where he's welcomed by British fans who enjoy his status as a middleweight contender. But for reasons owing either to his attitude -- indignant, contentious -- or his revisionist thinking (some losses can be explained away by poor judging, or so he says), he remains one of the UFC's few true villains in the States.
Maybe it's Hollywood, where on-screen antagonists often have British accents, that has conditioned audiences into thinking Brits are chilly and attitudinal; maybe it's the self-confidence -- possessed by all fighters but something that takes on a twinge of arrogance when it's coming from Bisping; or maybe he really is that abrasive. But he clearly provokes a response, which is probably why he has become one of "The Ultimate Fighter's" highest-paid alumni athletes.
Like all good bad guys, Bisping doesn't perceive himself as the heel; it's everyone else who has the problem. When he fights in London Saturday, it would be hard to convince the crowd otherwise.
What: UFC 120, an 11-bout card from the O2 Arena in London
When: A tape-delayed broadcast Saturday, Oct. 16 at 8 p.m. ET on Spike
Why you should care: Because Bisping, like him or not, usually delivers an honest effort in fights; because opponent Yoshihiro Akiyama is good enough to bring it out of him; because John Hathaway's development at 170 pounds is going to be one of 2011's more interesting stories; and because Dan Hardy's post-St. Pierre confidence (or lack of) will be something to see.
Fight of the night: Hardy versus Carlos Condit, two highly active offensive players who seem to have developed a dislike for one another.
Hype quote of the show: "It will look like me working out on the heavy bag. I will hit him at will and I want to hit him a lot. He's not done anything in his career which is spectacular. What he's done is grind out and tough-guy his way to a lot of wins over a lot of very good opponents." -- a very modest Hardy on Condit, to the Telegraph
Questions: UFC 120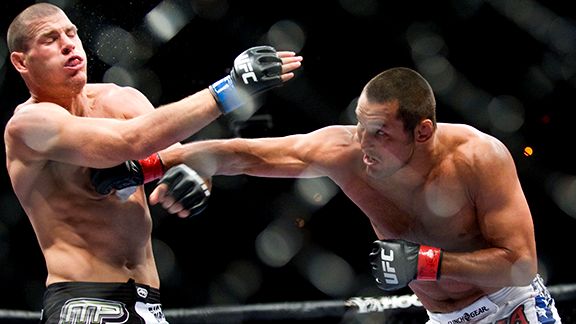 Martin McNeil for ESPN.com
Michael Bisping's last run at the middleweight title didn't go over so well.
Will Bisping ever close in on a title shot?
If Bisping had defeated Dan Henderson in a July 2009 bout, he probably would have been only a few months out from facing Anderson Silva somewhere in a UK arena. Instead, Henderson leveled him.
Since then, Bisping has beaten Dan Miller and Denis Kang while dropping a close fight to Wanderlei Silva. If he defeats Yoshihiro Akiyama Saturday, he will return to a more exclusive circle of middleweights idling around Anderson, who is rapidly running out of first-run competition to face in the division. Chael Sonnen could be out for a year over steroid allegations; Yushin Okami has next to no support despite an impressive record; Nate Marquardt has to beat Okami in order to be in the equation.
Bisping is a dark horse, but all it really takes is some opportunistic scheduling and for a contender to stub his toe during training. The result wouldn't matter: Bisping -- and by extension, the United Kingdom -- in a position to contest for a world title is enough to bring MMA to another platform in that market.
Will Yoshihiro Akiyama enter with an actual strategy?
Japanese fighters have a poor reputation for winging it in fights, responding to how their opponent dictates the action rather than initiating it on their own.
Akiyama was chaotic in bouts with Alan Belcher and Chris Leben, slugging it out rather than displaying some of the beautiful judo technique he spent a lifetime learning.
Now Akiyama seems to be overcompensating: He spent a few weeks in Albuquerque, N.M., with master planner Greg Jackson, who sometimes so burdens his athletes with minutiae that they do just enough to win. That's one extreme to the other. Hopefully Akiyama finds a happy medium.
Is Vinicius Queiroz one to watch?
Years ago, a Renzo Gracie student named Ricardo Morais captured attention for being a mash-up of big power (he was 6-foot-8) and jiu-jitsu technique. Putting Royce Gracie's skill set in Mark Kerr's body should've been something special.
Unfortunately, Morais only looked the part of a killer. He wasn't aggressive enough, and his career stalled out. A little bit of that wow factor is returning with Vinicius Kappke de Quieroz, who stands 6-foot-7 and comes from Brazil's Chute Boxe academy, birthplace of Wanderlei Silva and Mauricio Rua. Marrying credible Thai boxing with a frame that could force-feed a knee down anyone's throat is an intriguing concept.
Is Hardy's confidence well-supported?
Few fights go by without Hardy, 4-1 in the UFC, boasting of his credentials, his skills and his sheer amusement at athletes who believe they can be competitive with him. Yet three of his four UFC wins have come via decision -- two of them split. Hardy's fights often come down to a handful of strikes and razor-thin competition. This is not the stuff of a dominant athlete.
Obviously, part of Hardy's gimmick is to be a braggart. It worked beautifully against Marcus Davis, who allowed himself to be annoyed by the talk and lost. But eventually, Hardy will need to deliver more than just promises of violence. Empty threats don't win fans.
Red Ink: Bisping versus Akiyama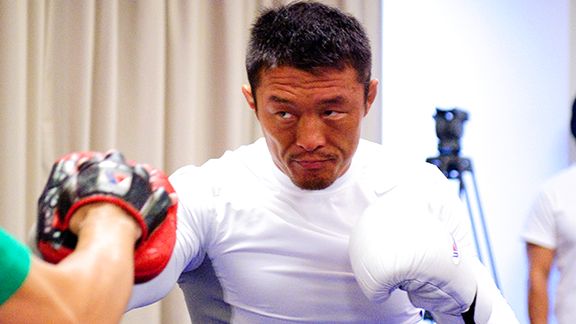 Martin McNeil for ESPN.com
Chances are, Yoshihiro Akiyama won't be able to stick to a game plan against Michael Bisping.
If you happen to be softening your position on Bisping, it could be a subliminal reaction to his new haircut: previously a militant buzz cut, it is now school-photo length with a sharp part. He seems more human that way. Maybe success has afforded him an image consultant.
That could be Bisping's only real concern. His actual fight game doesn't need a lot of revision. He's a competitive striker with an underrated guard and defensive clinch game, able to get up from takedowns and never in danger of tiring. That's all problematic for Akiyama, who has shown poor cardio pace in the past, windmilling punches, and a general distaste for a game plan. All bad for Akiyama the fighter, but good for you, the spectator; both of his UFC appearances have won fight-of-the-night bonuses.
What it means: For Bisping, a chance to move one step closer to a title bid; for Akiyama, strengthening his position as a potential draw for the UFC's inevitable move into the Far East.
Wild card: Akiyama's U.S. vacation with Greg Jackson. Is it going to sharpen him, or freeze him?
Who wins: Akiyama is strong, coordinated and has a bag full of judo tricks to confuse opponents with … but never seems able to assemble it into a coherent attack. Bisping by decision.