The status of former Strikeforce fighters
January, 12, 2014
1/12/14
11:02
AM ET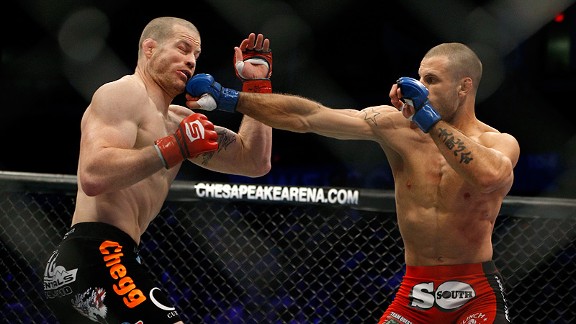 Ric Fogel for ESPNTarec Saffiedine, right, won the Strikeforce welterweight title on the last day of the promotion.
This weekend marks the one-year anniversary of Strikeforce's final event, which took place in Oklahoma City on Jan. 12, 2013.
The final breaths of that promotion, which Zuffa, parent company of the UFC, purchased in 2011, were relatively weak ones. From the Zuffa purchase on, Strikeforce was anything but "business as usual," a phrase UFC president Dana White so infamously used in characterizing the promotion's future at the time. The UFC's desire to pluck out some of the promotion's stars, plus a relatively sour relationship with its broadcast partner, painted a pretty clear picture that Strikeforce wasn't around for the long haul.
Nevertheless, the promotion sent its share of talent to the Octagon -- some of it, well before the doors closed for good. On the one-year anniversary of it's last show, ESPN.com takes a look at which athletes have made the most (and least) of the roster switch.
BEST MALE FIGHTER
Okamoto: Robbie Lawler
-- "Ruthless" has looked nothing like the half-interested middleweight he was in Strikeforce.
Huang: Daniel Cormier
-- Cormier continues his wrecking of veteran fighters, dispatching
Roy Nelson
and
Frank Mir
in his two UFC fights. He'll meet yet another in good friend
Rashad Evans
at UFC 170. Should he win that, Cormier would be in line for a shot at light heavyweight champ
Jon Jones
. And on the side, he scored an analyst's job for Fox.
BEST FEMALE FIGHTER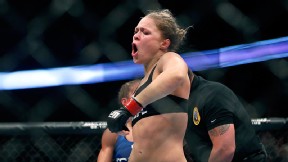 AP Photo/Jae C. HongRonda Rousey continued to enjoy success after moving to the UFC from Strikeforce.
Okamoto: Ronda Rousey
-- This one isn't up for debate. She's won twice in impressive fashion and carries the weight of being the face of female MMA.
Huang: Ronda Rousey
-- She nearly single-handedly arm-barred the UFC to develop the women's bantamweight division, all the while looking as dominant as any UFC champion has been. The difficulty will be to find enough challengers to Rousey.
BIGGEST SURPRISE
Okamoto: Bobby Green
-- Green was a nice lightweight under the Strikeforce banner, but he wasn't expected to create a ton of waves in the UFC. He's 3-0 and done so with style.
Huang: Women's division
-- Women in the UFC went from "never" to "awesome" in a single year, as spoken by UFC President Dana White. The UFC enjoyed an unexpected jolt of fandom for the women's bantamweight division culminating in Season 18 of The Ultimate Fighter that featured female coaches and fighters, and the addition of a second "strawweight" women's division.
BIGGEST BENEFACTOR
Okamoto: The heavyweight division
-- This place was paper-thin before getting a much-needed Strikeforce boost.
Fabricio Werdum
,
Josh Barnett
, Daniel Cormier,
Antonio Silva
-- where would the UFC heavyweight division be without these guys?
Huang: Fox Sports
-- With Fox featuring UFC events nearly every week, the addition of the Strikeforce fighters bolstered the overall depth of the UFC fighter roster and has stemmed what some viewed as a dilution of the product.
BIGGEST BUST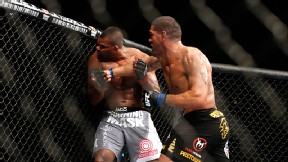 Ric Fogel/ESPNAlistair Overeem, left, has lost his last two fights in the UFC by KO.
Okamoto: Nick Diaz
-- Diaz has won once and retired twice since vacating the Strikeforce title and jumping to the UFC in 2011. He was dominated by Georges St. Pierre, who he called out for years, when he finally got the chance to fight him.
Huang: Alistair Overeem
-- The hulking Dutchman has been more hyped than piped since coming over from Strikeforce. His debut victory over a shell of
Brock Lesnar
rings hollow with successive knockout losses to Antonio Silva and
Travis Browne
during which he seemed one dimensional and tired easily.
STALEMATED
Okamoto: Jake Shields
-- His record since joining the UFC (4-2) is solid, but the wins have been tedious affairs and he was suspended in 2012 for a positive drug test. Feels like he's been running in place the last two years.
Huang: Antonio Silva
-- Despite impressive wins over Travis Browne and Alistair Overeem, Silva finds himself in a heavyweight no man's land with two horrible beatdowns at the hands of champ
Cain Velasquez
. Combine that with a nine-month suspension for elevated testosterone levels in December, it seems only fitting his last fight -- a three-round slugfest with
Mark Hunt
-- ended in a draw.