UFC's Dana White is a boxing fan
January, 22, 2014
1/22/14
2:47
PM ET

By Dan Rafael
ESPN.com
Archive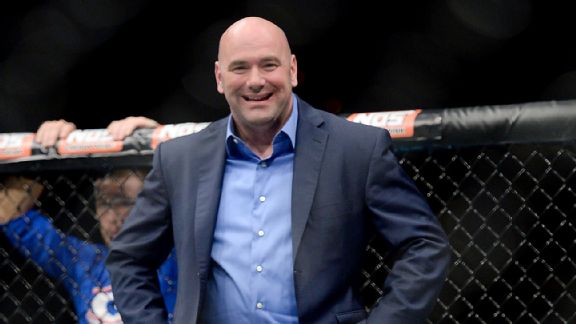 Jeff Bottari/Zuffa LLC/Getty ImagesCrossing over: UFC president Dana White is involved with an eight-episode boxing reality series.
To many boxing fans, as well as to many in the industry, Dana White, the outspoken president of the UFC, is the enemy, the guy whose sport most threatens it.
After all, White's mixed martial arts promotion is the biggest in the world. It has grown by leaps and bounds in recent years, gobbled up younger viewers, landed a gargantuan network television contract and is perceived by some as leaving boxing in the dust. (I don't buy that nonsense, but that's a debate for another day.)
What many don't realize, however, is that White was a huge boxing fan long before UFC existed and he remains one to this day, even though he has no problem speaking his mind on the ills of the sport, of which there are many. Sure, White can be abrasive and profane in his commentary and it rubs some the wrong way. Frankly, I find it refreshing.
But as immersed in the world of MMA as White is, he'll always be a boxing fan too. That's why he has involved himself in a big way as one of the driving forces and executive producers of "The Fighters," an eight-episode boxing reality series that debuts Thursday night (9 ET/PT) on Discovery Channel.
"I am a boxing guy at heart. I am not the f------ enemy," White said. "I love the sport and I want it to work and I want this show to work."
White, 44, has experience with reality TV given the UFC's huge success with "The Ultimate Fighter" series. And while the "The Fighters" does have elements of that show as well as boxing's defunct "The Contender" and far-less-remembered "The Next Great Champ," it's not a carbon copy by any means.
Set in tough South Boston (where White used to live and train, long before the UFC days), a handful of local trainers from rival gyms band together -- not always in such a friendly manner either -- in an effort to revive boxing in the city, once a hotbed of the sport. Each week, two of the trainers pick amateurs to represent their gym in the bout that concludes the episode.
White teamed with fellow executive producer Craig Piligian's Pilgrim Studios -- he also teamed with Piligian on "The Ultimate Fighter" -- and they have produced, at least based on watching the first show, a compelling look at the two amateur super middleweights, with aspirations to turn pro, who compete in the bout. Although the three-round fight is the climax of the episode, the backstory of each fighter, their struggles and the relationships with their trainers -- the memorable Peter Welch and lovingly blunt Joe Ricciardi -- make the show accessible even if you're not a big boxing fan. The show has heart.
Given the difficult lives of the two fighters featured in the premiere (Anthony McKenna, a 25-year-old recovering drug addict, and 28-year-old Matt Phinney, so broke that he was sleeping in his car), it's hard not to root for both guys in the fight.
That, in large part, is the point, according to White.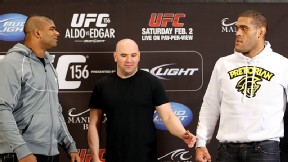 Josh Hedges/Getty ImagesDana White is very familiar with handling big-time MMA events. Now, he's trying his hand at boxing.
"Boxing is full of characters. It has a lot of f------ characters. That's what we're focusing on in the show. It's character driven," White said. "They fight at the end of each show, but it's not really about the fights this time. It's about the characters, these fighters and their trainers. The characters of boxing are good television."
Welch used to train White, who had heard about Welch's good reputation and sought him out in the late 1980s.
"I hunted him down to train me," White said. "So we spar and he beats the living s--- out of me. Next day we spar again and he beats the s--- out of me. And I came back the third day and he liked that and we started working together."
So when the show was conceived, White sought him out again.
"If it wasn't for Peter and if it wasn't for boxing, I wouldn't be where I am today," White said. "The boxing world, they like to look at me as the guy trying to kill boxing, which couldn't be further from the truth. The negative things I say about the sport, I'm just being honest. I want to see boxing succeed and I want to see great fights."
Could White's foray into boxing with the new series be an entrance into eventually promoting the sport on top of his UFC duties?
"I don't know. We'll see what happens," he said. "I don't want to commit to anything."
At the moment, he is just hoping for a successful launch of "The Fighters."
"I don't know where this show will take us," he said. "We gotta get through Season 1 and make this thing a success. I believe it will be successful. Boston is part of the fabric of the show. I could see us doing a season in Philadelphia, a great boxing city. The city becomes part of the fabric of the show. You could do it in Las Vegas, New York, London, Detroit.
"I'm talking like I have all the answers but I truly believe we did this show the right way. Boxing fan or not, I think people will be interested. I'm not trying to move into boxing and take it over. I'm trying to give back."