One of the biggest surprises to come out of the UFC acquisitions of Japan-groomed athletes has been the late-stage transformation of Mirko "Cro Cop" Filipovic.
A stern and stoic fighter, Filipovic was not known for being personable or even especially tolerant of his celebrity. When he cried after winning Pride's open weight tournament in 2006, it was like watching tears drip from an Easter Island statue.
(Little wonder: Croatia doesn't seem to embrace sentimentality. When "Titanic" was released there, it was billed as a comedy.)
Today's Filipovic is jovial in comparison, joking with reporters asking inane questions and having something approaching a good time. But that newfound candidness comes with a price: Filipovic is not shy about his chances against Frank Mir on Saturday, telling media that he might be doing enough just by showing up. (He received a blow to the eye during training that caused concern over his readiness to compete.)
"I will most certainly go for a win but I think I did a lot just by accepting this fight," he told Croatian newspapers. "I will try to do my best … if the fight goes to the third round it will be [a] handicap for me."
No matter: Mirko will march in and take his chances; fans will get their money's worth one way or another.
What: UFC 119, an 11-bout card from the Conseco Fieldhouse in Indianapolis
When: Saturday, Sept. 25 at 10 p.m. ET on pay-per-view, with a live preliminary show at 9 p.m. ET on Spike
Why you should care: Because Filipovic's constitution may not be a factor if Mir evens the scales and tires out as quickly as he has in the past; because Ryan Bader will get his first real test at 205 against the very skilled hands and very hard head of Antonio Rogerio Nogueira; because Sean Sherk can prove he's still relevant against an imposing rookie in Evan Dunham; and because Melvin Guillard, who opens the live PPV card, hasn't bored anyone yet.
Fight of the night: Guillard versusJeremy Stephens, for the four minutes it'll probably wind up lasting.
Hype quote of the show: "You know I'm getting booed out of the stinking place, right?" -- Matt Serra on fighting in Chris Lytle's hometown, to UFC.com.
Questions: UFC 119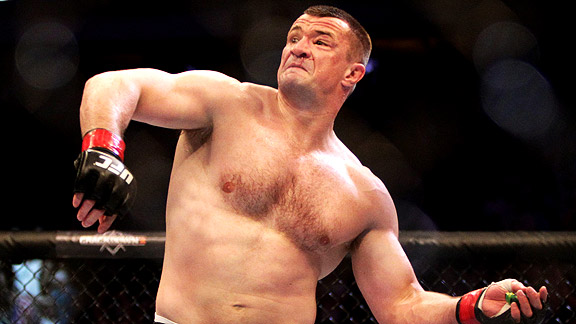 AP Photo/The Canadian Press/Darryl Dyck
Will Mirko Filipovic throw caution to the wind come fight night?
Q: Has Cro Cop lost his mojo?
A: A handful of fighters in the past decade were capable of inducing actual nervousness on the part of spectators: Watching Wanderlei Silva, Fedor Emelianenko and Chuck Liddell was like waiting for a detonation. Some fight for judges; these guys fought as if they had pressing business in the locker room.
Filipovic was at the top of the list -- a dangerous striker with excellent balance and anti-wrestling skills to force the fight where he wanted it. But the post-2006 Mirko has been lethargic, slower and less inclined to solve problems with violence. Getting in the ring with him can't be as stressful an experience as it once was.
Losing that mystique often provides an avenue for opponents to drop their guard and become more proactive. If Mir can walk forward without flinching, he's already done most of the work necessary.
Q: Is Bader a sleeper agent?
A: Bader, 27 and a Division I All-American in wrestling, received the most attention yet for his February defeat of Keith Jardine. But Jardine had already dropped two consecutive bouts; the weekend's fight with Antonio Rogerio Nogueira will be a far more substantial test of Bader's value to the light heavyweight division.
It's a positive outlook: Heavy hands and excellent wrestling can get you far, as evidenced by the decade-plus success of Dan Henderson. Jon Jones, while frustrating on the feet, hasn't yet displayed KO power there; Bader has. Careers are more marathon than sprint, and Bader might wind up being the better-aging of the two.
Q: Is Sherk ever going to fight smart again?
A: Sherk's yearlong layoff was preceded by one of the more bizarre transformations in MMA: Despite being a smothering wrestler, he frequently chose to stand and trade despite having stocky arms that put him at a significant disadvantage.
Did he want to be "exciting" and go after the bonus incentives? Who knows? Sherk does his best work on the ground, roughing opponents up and grinding out victories. His win percentage can remain impressive if he sticks to what he knows.
Q: Is Mark Hunt the black sheep of the card?
A: Buried in the preliminary rounds of Saturday's lineup is Hunt, the respected K-1 veteran who had two promising showings in MMA (against Filipovic and Wanderlei Silva) before remembering he knew absolutely nothing on the ground. Hunt hasn't won an MMA fight in four years and appears now only due to impenetrable contract issues created by the UFC's buyout of Pride in 2007.
But Hunt has been sweating to make the 265-pound weight ceiling, activity that will likely put him in better condition than he's seen in years. He remains hard to handle standing (in MMA, at least) and has tools acquired from American Top Team to up his survival rate on the mat. He may wind up surprising people.
Red Ink: Cro Cop versus Mir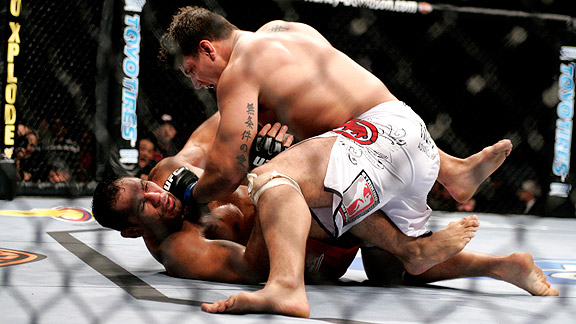 Ric Fogel for ESPN.com
Frank Mir has been putting his heavy hands to good use as of late.
Has anyone gone through more physical transformations in mixed martial arts than Mir? A solid 250-ish fighter in his 2001-02 debut, in 2004 a motorcycle accident spit him out a bloated mess, with a distended belly hanging over trunks. He later lost the excess weight to regain form against Brock Lesnar; with a Lesnar rematch going the wrong way, he put on slabs of muscle to try to match power. A bout with Shane Carwin choked that theory. Now he's back to a manageable size and looking to trim more bulk in an effort to be more agile. If he ever makes good on a threat to drop to 205 pounds, he'll officially be the Robert DeNiro of the Octagon.
If nothing else, Mir is turning himself into a lab rat for the UFC's heavyweight division. Is it better to be big with a labored heart, midsized with a mixture of cardio and power, or on the smaller side with wind for days? Common sense says to try to get the best of all worlds. But whether Mir has done that or not, he probably won't find a lot of fight in Filipovic, who enters with a nagging eye injury, an expedited training camp and wheezing motivation that had him pondering retirement -- after a win, no less -- against Patrick Barry in June.
Filipovic is a more docile fighter than he's ever been; Mir has grown fond of his heavy hands, and when he's not fighting brick walls in Lesnar and Carwin, seems relaxed trading and blending the altered consciousness of his opponents with takedowns. (His fight against Cheick Kongo was a beautiful, literal interpretation of mixed martial arts: knockdown to choke.) He has more weapons with which to win the fight.
What it means: For Mir, a chance to notch another Pride name into his belt and erase the unpleasant memory of being bashed by Carwin; for Filipovic, a chance to shut up the naysayers who think he's deflated.
Wild card: Mir's fluctuating weight -- up for Carwin, down to 205, up again for Filipovic -- is a notorious drain on the cardiovascular system. If it goes late, it's anyone's fight.
Who wins: Even in wins, Filipovic has looked nothing like the predator of old. Mir will settle into a groove standing and take it to the mat when the time is right. If Filipovic gets up, it'll be with a very sore arm. Mir by submission.