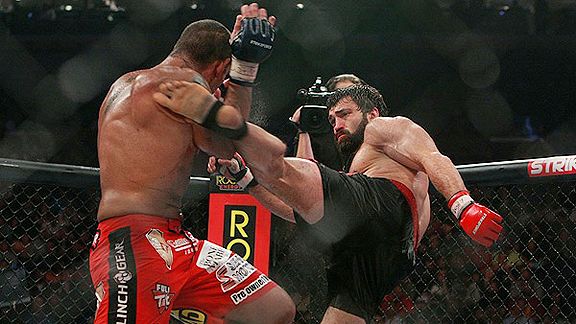 Dave Mandel/Sherdog.com
Andrei Arlovski had better get sharpen his kicks and steel his chin for his new job.
The easy joke about Andrei Arlovski's decision to enter a K-1 kickboxing tournament -- home to some of the most dangerous stand-up strikers in the world -- has to start with his papier-mache chin: Arlovski has been knocked out in two of his past three bouts, cartoon birds and all. Entering a situation in which he's forced to stand and trade might not be the best ego-builder. He's not even a particularly strong kicker.
Fine and fair enough. But Arlovski's losses came against two of the heavier-handed fighters in the heavyweight division in Fedor Emelianenko and Brett Rogers. And against both, he made huge tactical errors that created an unobstructed path from their hands to his mouth. Watch the Emelianenko fight up to the sudden finish, and Arlovski was looking solid. Watch him collapse Roy Nelson -- something Junior dos Santos couldn't do. Arlovski is a talented puncher who just hasn't been able to put everything together. He's hardly a shot athlete.
The advantage to taking the K-1 gig (Oct. 2) might be forward-thinking on his manager's part: FEG, the company that subsidizes both kickboxing and Dream, has encountered widely reported financial troubles. These opportunities might not exist for fighters a year from now; Arlovski is getting it while he can. Smart.
Less smart: fighting Raul Catinas in his opening bout. Catinas is a tough, stocky Romanian who has never been finished in 15 fights and has beaten reputable names in Carter Williams and Stephan Leko. He's not a cream-puff assignment. I don't know about Arlovski's chances -- especially when later bouts could involve Alistair Overeem and Badr Hari -- but the fact that he's taking them at all should earn him some respect.