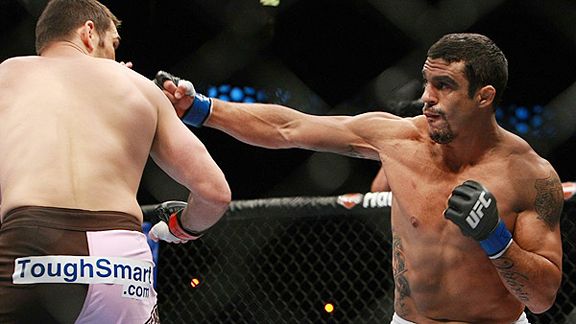 Dave Mandel for Sherdog.com
Vitor Belfort's vaunted hand speed wouldn't make up for a lack of experience in the boxing ring.
The inventor of Twitter -- someone whom I would very much enjoy punching in a vital organ -- has made it possible for celebrities and laypersons to disseminate any idea that pops into their heads. These transmissions can sometimes approach the level of haiku: brief bits of cleverness that make a point. More often, the thoughts are so stupid that you wonder how the messenger can navigate a flight of stairs without perishing.
I don't think Vitor Belfort is necessarily a dumb guy, but I do believe his wish to box James Toney would have benefited from more internal auditing. It's easy to see Toney as an oaf shuffling through the last days of his career, and while it's obvious he's 50 percent (at best) of the athlete he once was, there is little doubt that even now Toney would turn Belfort's face into something subjected to the business end of a blender. He is a professional boxer, a participant in more than 100 fights total, and possesses skills Belfort hasn't ever had to face. (Put another way, Belfort was once outstruck by Randy Couture, who immediately ducked for a low single when he had to face Toney. The man knew his limits.)
Belfort boxed professionally just once, a first-round KO over Josemario Neves in April 2006. Neves had never boxed before and hasn't since, making the fight essentially pointless as a way of gauging any skills either man has in a punching contest. Belfort is renowned for his hand speed, yes, and could probably embarrass Toney in a decathlon, but the skills are otherwise so skewed in favor of Toney that Belfort might as well be challenging Brock Lesnar to a takedown drill.
It will never happen -- certainly not under the watch of Dana White, who has repeatedly vetoed the side aspirations of his freelance employees. So why even bother mentioning it? Because it should act as a cautionary tale for Twitter-ers who fail to realize that they're in terrible danger of broadcasting ill-advised thoughts for idiots like me to pick apart. When in doubt, sleep on it.