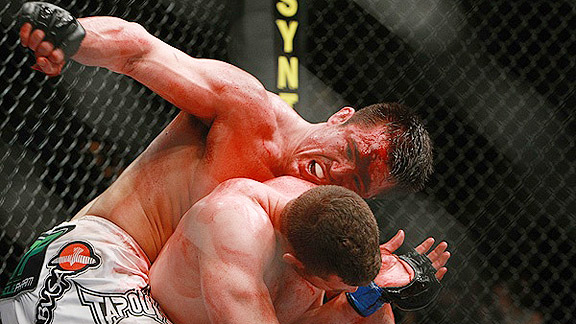 Dave Mandel/Sherdog.com
Does Chael Sonnen's gamesmanship add anything to his game in the cage? We think not.
"Guy talk, blah, blah, blah."
This was Anderson Silva's assessment of Chael Sonnen while speaking with Ariel Helwani, and though it's not all that illuminating, it does a decent job of summarizing Sonnen's current M.O.: act obnoxious, be loud and get paid.
Sonnen has been spending the months leading up to his Aug. 7 fight with Silva antagonizing his opponent in various ways: in interviews, on Twitter -- where, as it turns out, he has become a master of the 140-character put-down -- and occasionally even to Silva's face. (The two apparently exchanged words at last weekend's Fan Expo; had it escalated, it might have thinned out some of the autograph lines.) This is not at all out of character for Sonnen (who frequently has been a dismissive personality), but the volume has gone up. If he doesn't currently get a cut of the pay-per-view proceeds, he soon will.
For most, Sonnen's rap is an entertaining diversion. For others, it embodies a disturbing trend in fight sports dictating that opportunities go to the athletes who can come up with the best insults.
Rashad Evans and Quinton Jackson used verbal assaults -- most of them simple-minded and redundant -- to register unprecedented interest for a fight that was otherwise not all that intriguing. Dan Hardy famously talked his way into a title shot against Georges St. Pierre. "Tank" Abbott wound up extending a limited skill set by a solid decade because his persona was too abrasive to be believed. Talking trash is almost a guarantee of future employment.
The biggest danger that Sonnen -- or any orator -- runs is failing to deliver on promises of violence. If he gets steamrolled by Silva, that library of Tweets is going to take on a whole new meaning. And there is clearly a danger of getting carried away: Fighters who have sworn to murder opponents or have hurled racial or sexual epithets don't do themselves any favors. (Already, Sonnen has devolved into some nonsensical commentary -- something about "crucifying" Silva's manager, Ed Soares. More than a non sequitur, it's just creepy.)
Do fans really care? Jackson-Evans delivered a sizable live gate, and the pay-per-view business is expected to be tremendous. But the fight itself was mostly slow going. (Months of talk followed by 15 minutes of anti-climactic cage-leaning is going to produce jaded spectators.) Will audiences buy Jackson and Evans railing against their next opponents now that it's understood it won't result in any more dramatic a fight?
Part of this surge in dialogue can be traced to the rise of social networking funnels. Instead of waiting for an interviewer to pull out a notepad, fighters can -- and are encouraged to -- disseminate their ill will on Twitter, Facebook or using any number of instant-communication tools. The downside is that there's no common-sense pause: an impulsive thought comes in, goes out and can sometimes be embarrassing for the athlete. If Marcus Davis had slept on it, he probably wouldn't have wished a terminal illness on Dan Hardy.
The most offensive part of the talk is how insincere most of it seems. For a sport selling reality, empty threats and insults are a poor fit.