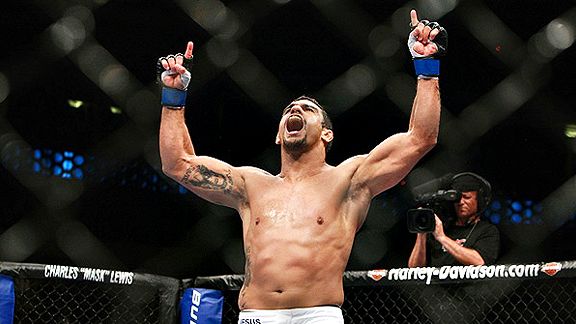 Dave Mandel/Sherdog.com
Vitor Belfort may be waiting awhile for his shot at Anderson Silva and the UFC middleweight title.
Finally ready to return after an injury kept him from making an April fight against Anderson Silva, Vitor Belfort seems to expect that a title shot will still be on the table when he returns in October. Unfortunately, unless the UFC wants to shelve him indefinitely, that doesn't seem like the most logical course of action.
Silva fights Chael Sonnen in August. Assuming the winner comes out injury-free, it's doubtful either man would take a compressed training camp. (Sonnen probably would be willing, but cooler heads should prevail.) That means Belfort is probably looking at a contender's fight in the fall, which would hardly be unreasonable: Although he had two nice wins outside of UFC competition, a win over Rich Franklin is a generous path to the promotion's middleweight belt.
A rematch with Wanderlei Silva -- Belfort blitzed him 12 years ago -- is long, long overdue, but Silva seems to be enjoying a biannual fight schedule. Alan Belcher would be less engaging, but as long as Belfort fights, so much the better. Fighters make better athletes than they do doorstops.