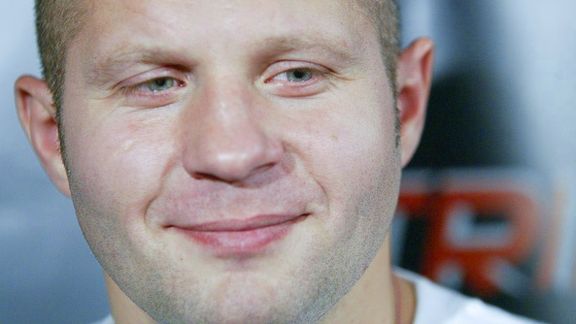 Jeff Sherwood/Sherdog.com
Will we have to watch Fedor Emelianenko fight has-beens and never-weres in his last days?
I appreciate any and every opportunity to see Fedor Emelianenko compete, even when the arrangements of his promoter promise to add little to his reputation. There is always pleasure in watching someone of such incredible skill do the thing he does best. In his case, it's making people stumble and bleed. If you are missing your equilibrium, it's probably because he took it.
With as many tools as Emelianenko has in his bag, asking him to figure out Fabricio Werdum is like asking a master craftsman to construct a dog house. What Emelianenko has proven beyond a doubt in his career is that jiu-jitsu is of no concern to him. He fought the greatest grappling heavyweight of all time, Antonio Nogueira, on three separate occasions, and the only thing that kept him from three victories was a no-contest following a head-butt gash. His awareness level on the ground is second to none. I can't recall a single instance when an opponent had managed even to tie him up long enough for announcers to consider him threatened. (It doesn't mean it never happened; it means I can't remember right now.)
Tweet, tweet

Don't miss a moment of the latest MMA coverage from around the world. Follow us on Twitter and stay informed. Join &#187
Werdum isn't Nogueira's equal, a point proven when Nogueira defeated him in 2006. Werdum's striking has improved considerably since then, but there is nothing on his record to indicate that any component of his game poses a substantial concern for Emelianenko. And that's a shame.
How many more fights are left in Emelianenko's career? Ten? Less? With notoriously brittle hands and a schedule infected by the constant agitation of his M-1 Global parents, he's good for maybe two fights a year. The only fight that makes any sense at all for him in Strikeforce is Alistair Overeem, the promotion's champion. But Overeem fights Brett Rogers a month earlier in bracketing that seems designed to confuse and irritate fans. (One unforgiving rule of promoting: When you think it's a good idea to "build" to fights, it's not -- fighters lose in too many ways to keep momentum in your favor.)
This isn't necessarily a condemnation of Strikeforce, which is understandably playing the only hand it holds. With another CBS date unavailable until fall, there's not much sense in booking Emelianenko in a "big" fight on Showtime; and keeping him idle until then would just irritate audiences more.
The real culprit is M-1, which uses Emelianenko like the mechanical rabbit at the dog track. The organization's insistence on affixing itself to Strikeforce's domestic promotion is considered a joke because there is nothing behind it: M-1 has yet to promote any show of substance without Fedor's participation -- and yet the recent Strikeforce press release mentions "M-1 Global" no fewer than five times. It would be like Brock Lesnar insisting the UFC paper its business with mentions of "BrockCo," a regional promotion that plays to little fanfare in Minnesota. It's bizarre and unnecessary. Because of M-1's protracted interventions, we now have the Werdum fight, and it's a giant nothing.
The idea that Emelianenko's few remaining nights as an effective athlete are being polluted, delayed and orchestrated by the eccentric demands of an irrelevant organization is depressing. It's the greatest amount of damage he has taken in his career to date.