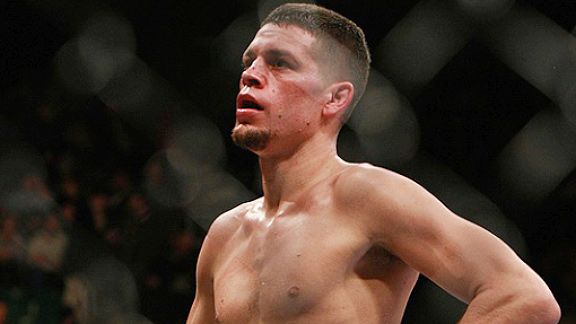 Dave Mandel/Sherdog.com
Nate Diaz might face sanctions for his role in the Strikeforce brawl, but his temper makes for good TV.
If you want some perspective on the damage Strikeforce's postfight brawl had on business this past Saturday, you might want to recall the unfortunate match between Emile Griffith and Benny Paret in 1962.
At the time, both boxing and pro wrestling had proven to be valuable sports content for the then-burgeoning world of television. The action was easy to make out on small screens, and promoters were able to market stars without the restrictions of regional audiences. But on that night, Griffith committed a sin several times over when he so battered Paret during a televised match that Paret never regained consciousness.
Tweet, tweet

Don't miss a moment of the latest MMA coverage from around the world. Follow us on Twitter and stay informed. Join &#187
NBC, which broadcast the bout, immediately cut its ties with boxing; the sport didn't return to television until the 1970s.
That was a tragic and destructive event not only for Griffith and Paret, but for the sport of boxing as a whole. It makes a toothless brawl on CBS that resulted in no real injuries and no criminal charges seem little more than a blip on the radar by comparison.
Nonetheless, the Tennessee Athletic Commission announced Monday that it would pursue an investigation into the scene. Because the organization is unlikely to find anything but a logjam of consenting adults behaving poorly, some observers are looking to other administrators for disciplinary reaction.
Steve Cofield of Yahoo! Sports recently pleaded for UFC's Dana White to take some kind of action against lightweight Nate Diaz for his role in the brawl. (Diaz was seen launching a kick or two at a mobbed Jason Miller.) Cofield cited the NBA's action against Latrell Sprewell, Kevin Garnett and a gun-toting Gilbert Arenas as proper responses to bad behavior.
But Diaz's actions differ significantly: He wasn't acting as a UFC contractor at the time. Diaz was at a Strikeforce event piling on a Strikeforce fighter in a Strikeforce cage. That attack may be perceived as punishable by the commission, but it's not a case in which the UFC would have any jurisdiction. (It would also be hypocritical: Diaz's temper made good television on "The Ultimate Fighter," especially when Karo Parisyan walked by. Buy the bull, get the horns.)
The sender of the message should be the state of Tennessee, which shouldn't take long to assess the role of everyone involved -- including Miller -- and level fines and suspensions of moderate severity. But whether CBS does or doesn't continue to support MMA is irrelevant. So long as the public wants violence, it'll get violence. Morality doesn't plug any network programming slots.