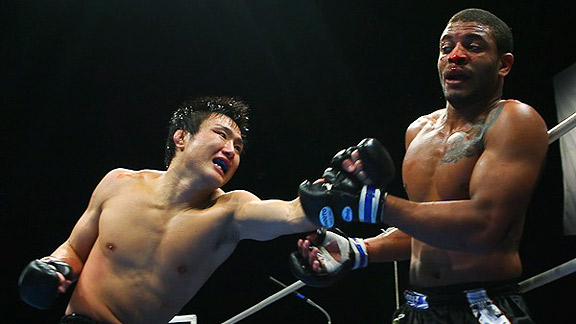 Daniel Herbertson/Sherdog.com
America may be getting its first glimpse of Takanori Gomi, left, after his best days are gone.
Watching Takanori Gomi in his first career cage appearance Wednesday won't necessarily put new fans on a path to understanding his abilities. For the middle part of the past decade, Gomi was Japan's lightweight ace, with blitzkrieg performances against fighters both reputable (Tatsuya Kawajiri) and less so (Charles "Krazy Horse" Bennett). It was all part of the Japanese practice of mixing challenges with showcase-type performances, and it worked well: Gomi drew business, and he had a four-plus-year stretch during which he lost only twice in 19 fights. In MMA, that's about perfect.
Tweet, tweet

Don't miss a moment of the latest MMA coverage from around the world. Follow us on Twitter and stay informed. Join &#187
The UFC will be a new arena for Gomi, not only because of Kenny Florian's potential to stack him up against the Tapout-sponsored fencing, but because Florian will have adequate time to prepare for Gomi's heavy-handed approach to fighting. (In Japan, fights can be booked on a couple of weeks' notice without drawing many complaints.) Compounding problems are the lethargic rounds Gomi has put in during the past two years, a mixture of career apathy and possibly some age-related slowdown. If he actually wants to be in there against Florian, though, "KenFlo" might not enjoy the experience.
What: UFC Fight Night 21, an 11-bout card from the Bojangles Coliseum in Charlotte, N.C.
When: Wednesday, at 8 p.m. ET on Spike
Why you should care: Because Florian and Gomi, neither of whom allows opponents to hang back and get settled in, will be all business. Because Nate Quarry and Jorge Rivera, two middle-aged middleweights, fight with the conviction of 20-year-olds. And because the ornament-shaped Roy Nelson facing 6-foot-11 Stefan Struve is a two-page magazine photo spread waiting to happen.
Fight of the night: Rob Emerson versus Nik Lentz, a lightweight dark bout that should earn a spot on the telecast, with Emerson throwing out everything he can to avoid Lentz's tackles. No egos, no sports drink endorsements -- just collision.
Hype quote of the show: "Just having that extra bit of life experience definitely helps as a fighter. … I'm a lot smarter now than I was then. Except physically, I still haven't grown into my body yet." -- A self-amused Roy Nelson to UFC.com
Questions: UFC Fight Night 21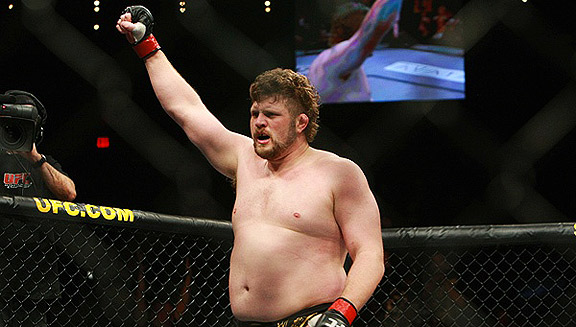 Dave Mandel/Sherdog.com
Forget the figure: It may be time to take Roy Nelson's prospects at heavyweight more seriously.
Are Takanori Gomi's best days behind him?
Thirty-one isn't osteoporosis territory, but Japanese standout Gomi has spent 11 years on the fight circuit. That's approaching the expiration date for all but the most genetically favored athletes. It's not that Gomi has dropped fights with the kind of spectacular fades reminiscent of Chuck Liddell and Matt Hughes; it's that his in-ring disposition has been a mixture of bored and drained. He insists a U.S. tour will reinvigorate him. We'll see.
Can Kenny Florian earn a third title shot? And should he?
No one circles the landing strip of the UFC's 155-pound title quite like Florian, who has made a habit of demolition derbies against contenders followed by hard-fought losses to champions such as B.J. Penn and Sean Sherk. Putting away Gomi and Clay Guida would put him in line again, but it's hard to believe he could do any better against Penn the second time around. The champion is that dominant; Frankie Edgar or Gray Maynard, possible title successors, might be better options if Florian's number comes up a third time.
Where does Roy Nelson fit in the heavyweight picture? (Pun intended.)
Nelson breezed through "The Ultimate Fighter" without incident, an impressive task when you consider that favorites can still fall victim to injury or fatigue. In his first proper UFC bout, Nelson takes on tall striker Stefan Struve. If he can figure out that puzzle, it might be fair to acknowledge Nelson's past experience -- bouts against Andrei Arlovski and Ben Rothwell -- by accelerating his pace and giving him a shot at Junior dos Santos.
Is Yushin Okami fading?
Yushin Okami once was believed to be the necessary-evil contender of the middleweight division: He is enormous for the class, is a terrific controller and has history with champion Anderson Silva. (Their 2006 fight ended when Silva launched an illegal up-kick.) A smothering approach has earned him wins -- but not a lot of main-card attention -- and a loss to Chael Sonnen in October set him adrift. He'll be hustled away from television cameras Wednesday, this time against jiu-jitsu stylist Lucio Linhares. It's a probable win, but Linhares can't put Okami any closer to Silva.
Red Ink: Florian versus Gomi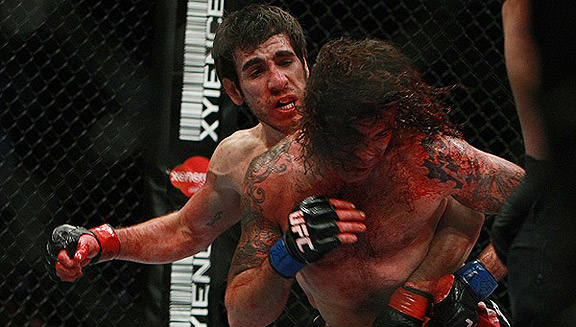 Dave Mandel/Sherdog.com
Takanori Gomi is dangerous, but Kenny Florian, left, is no slouch as a striker himself.
Weapons: Kenny Florian has them; Takanori Gomi has rarely seen them. Gomi's last cage occupation was in his crushing loss to B.J. Penn at a 2003 Rumble on the Rock event. Since then, he has grown accustomed to being surrounded by pliable ring ropes that can help fighters slip out from confrontation. His action in Japan also disallowed elbows, which Florian has turned into concealed-carry cutting utensils.
More troubling news for Gomi: Florian's problems usually extend only to powerhouse wrestlers who can dictate position and pace. Gomi's skills reside mainly in the striking department, where Florian has proved himself to be an adept and damaging countercompetitor. On paper, the "con" list weighs heavily against Gomi.
If all this doesn't concern him, it's because hands like his often can mitigate any paper problems. Gomi hits like a speeding cab, made a horror film out of Nick Diaz's face and might stun Florian with power beyond his experience.
What it means: For Florian, a chance to get a favorable mark on his record against a true overseas sensation; for Gomi, the opportunity to amplify his UFC arrival with an exciting fight.
Wild card: Gomi's wrestling -- underrated, but possibly enough to complicate Florian's execution of his jiu-jitsu game.
Who wins: Gomi has power, but it comes at the expense of exaggerated wind-ups and loops that Florian's disciplined Thai boxing could eat up. It'll be a long flight back to Japan. Florian by decision.