Some athletes reach a point where their own elevated standards come back to bite them in the rear. For fighters, that can mean fighting at a level perceived as beneath them and struggling to put an exclamation point on the victory.
Georges St. Pierre, the four-time defending welterweight champion, is easily the most gifted MMA athlete who didn't grow up on a collegiate-style wrestling mat. His game is faultless: He can strike, he can wrestle and he can grapple, with a bottomless reservoir of energy to fuel it all.
Against an unremarkable Dan Hardy, gift-wrapped a title shot due to a lack of contenders, St. Pierre probably should have found a way to finish.
Instead, he controlled Hardy -- flawlessly -- for five rounds while delivering little damage. Some people will find this impressive; others will find it infuriating.
Is the blame on Hardy or St. Pierre? The champion had two retch-inducing submissions locked, which probably would have tapped fighters who hadn't talked themselves into invincibility. St. Pierre's fault, if any can be assigned, was in not finding a position or distance standing for delivering punishment that would end the bout. This is easy for a fan to say, but not so reasonable when the athlete in question has a legacy, a seven-figure payday, and a Gatorade endorsement deal sitting on the cage apron.
St. Pierre is a sensational fighter who will occupy meditations on the sport for decades to come. But there is a limit to the affection shown to an athlete who plays such a conservative game. Great sportsmen have the skills and psychological security to take calculated risks in an effort to arrive at spectacular results. Without that danger, St. Pierre is just calculating.
Next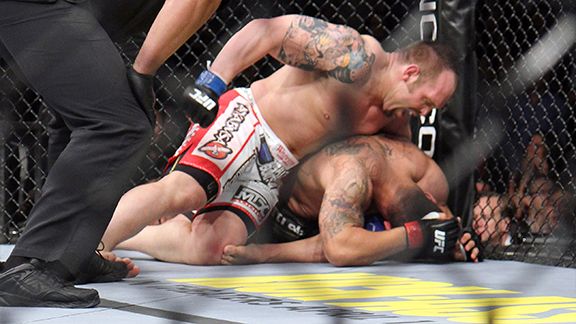 AP Photo/Gregory Payan
New kid on the Brock: Shane Carwin is ready for Brock Lesnar.
Next for St. Pierre: A long, long run as the 170-pound champion, until either boredom or sneezing powder intervenes; possibly the winner of Josh Koscheck-Paul Daley, or future free agent Jake Shields.
Next for Shane Carwin: Brock Lesnar and the world's first reinforced Octagon.
Next for Frank Mir: A wide field, including but not limited to Roy Nelson and Pat Barry.
Next for Jon Fitch: A healthy Thiago Alves.
Awards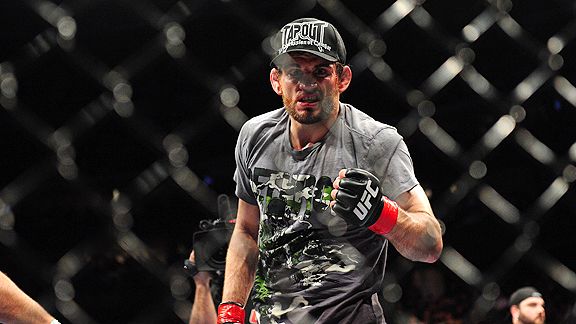 Martin McNeil for ESPN.com
But he might be slow and steady, but Jon Fitch is a force to be reckoned with at welterweight.
The Goldberg award: To Mike Goldberg -- for an unprecedented 12th consecutive time -- for referring to the duration left in a round as "megaseconds." I don't think that means what he thinks it means.
The easily irritated award: To Joe Rogan, for audibly shaking his head every time the referee intervened on Fitch-Ben Saunders.
The Snuggie award: To Fitch, for racking up more decisions than the Supreme Court. (For the record: eight of them in 12 wins.)
The Déjá Vu award: Mir, for once again having an enormous hand slamming into his head while he attempts to guard himself from the prone position. First rule of guard work: Be staring at the ceiling, not the mat.
New Questions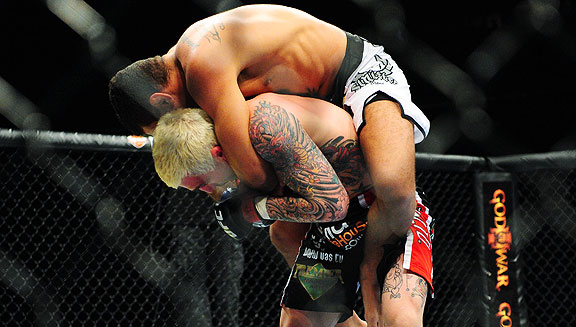 Martin McNeil for ESPN.com
Using his head: Kurt Pellegrino's head spike of Fabricio Camoes, top, was creative but dangerous.
Q: Have we really figured out Carwin yet?
A: There are obvious reasons to be suspicious of Carwin's abilities. We have yet to see him past a single round of fighting. (The precedent for a 280-pound man in long attrition bouts is not encouraging.) We haven't seen him tumbling with a great grappler. And we don't know what his skills look like in an extended stand-up exchange with a great striker.
But Carwin's method is so effective that he doesn't let opponents ask those questions. He pressed Mir against the fence Saturday and essentially re-enacted the Lesnar bout, delivering lunch-pail-sized fists to Mir's head until the referee pulled him off.
Carwin-Lesnar may not do the same numbers as Lesnar/Mir III, but Carwin's skills may wind up doing a number on Lesnar.
Q: Which is more important -- the spectator, or the sport?
A: St. Pierre took crap with his corn flakes Sunday morning, celebrated in some circles for a decisive five-round win over a misplaced Hardy and reviled in others for the same. Is a smothering win as good as any? One side says yes: The sport's results should never be infected by concerns over commerce. The other side says no: St. Pierre doesn't fight in an empty gym but in front of millions, some of whom are paying a handsome, scalper-inflated ticket price.
Is St. Pierre's work polarizing? It looks that way. But that's often what great athletes do. The fault may not reside with him, but in the UFC's inability to find a contender that will press him into action.
Q: Is the Kurt Pellegrino-Fabricio Camoes head spike a pending foul?
A: There are varying definitions of "serious" injury, but by and large, the well-attended-to Ultimate Fighting Championship has suffered no catastrophic trauma in its 17 years of existence. That statistic wobbles a bit when a scene plays out like the one between Pellegrino and Camoes on Saturday: Pellegrino, back-mounted by Camoes, hopped up and drove his opponent's head into the canvas. It does not take an M.D. to suspect that being plopped onto one's head with the ferociousness delivered by a professional athlete can ruin your plans to remain ambulatory.
Pellegrino's was not called a foul: "spiking" the head usually involves some altitude, or dropping the fighter from a greater distance. But with amateur Iowa fighter Zack Kirk recently suffering paralysis because of a botched takedown effort that stubbed his head on the mat, it's time to reflect on that definition. This is combat for entertainment's sake, not warfare.
Q: Is the AKA friendship over?
A: With a sedated win over Saunders, Fitch moved to 12-1 in the UFC and put a foot in the door of the welterweight championship. At the postfight news conference, Dana White intimated that Fitch should face AKA training partner Josh Koscheck in the near future for the right to rematch St. Pierre. (Both Fitch and Koscheck have lost to the champion; Koscheck fights Daley in the spring.) Fitch demurred, but it's clear that the organization is growing tired of booking cards around gym relationships.
If Fitch and Koscheck are unwilling to engage, that's understandable: Unlike most competitions, MMA requires you to bludgeon your brother or friend. But that concession means you waive the right to occupy the same real estate. One of these guys is either moving up in weight, or across the street to Showtime.
This and that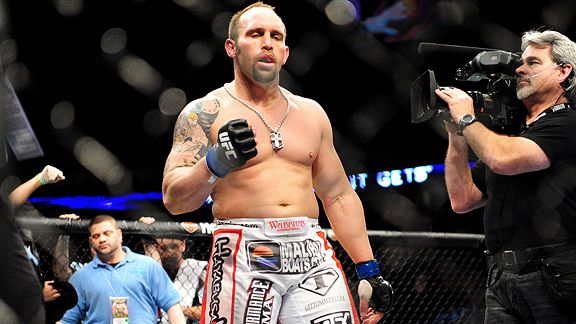 Martin McNeil for ESPN.com
Pumped up: Shane Carwin earned nearly $1,000 a punch in hammering Frank Mir's head in.
• Middleweight Rousimar Palhares received a 90-day suspension from the New Jersey Athletic Control Board for ignoring Tomasz Drwal's tap to a torqued heel hook. I'm not a fan of submissions cinched until injury occurs, but the fault lies with the referee in not separating them at the first sign of the tap. It's not Palhares' obligation to guarantee the sensation on his arm -- the tap -- wasn't Drwal trying to push him off. …
• An unmarked Hardy spoke with Sherdog following his loss to St. Pierre. "I think a few people in the division were surprised," at the performance, he says, and that he "wasn't overwhelmed." FightMetric's numbers would disagree. …
• White hinted to MMAJunkie.com that the winner of Koscheck-Daley could be in line to coach opposite St. Pierre on the 12th season of their endless "Ultimate Fighter" franchise. That would place St. Pierre's next bout close to New Year's. The only thing worse than underwhelming title defenses is putting eight months between them. …
…Carwin picked up an extra $65,000 for finishing Mir. That's a little over $1,000 for every punch landed. And they say the economy is bad.