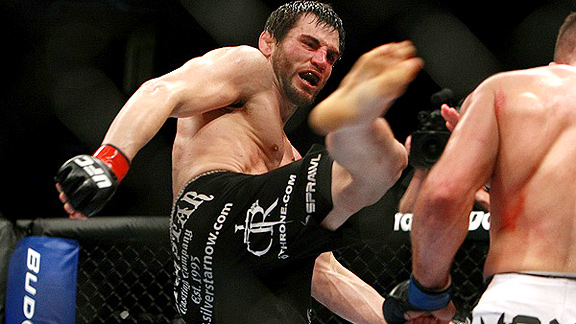 Dave Mandel/Sherdog.com
Jon Fitch has been winning plenty lately, but it hasn't been enough for some fight fans.
In a no-time-limit fight, Jon Fitch somehow would find a way to go to the judges. He hasn't finished a fight in nearly three years. But if you have a problem with that, then by god, he has a problem with you.
"I view them as fair-weather fans," Fitch told BleacherReport.com of his KO-lusting critics. "They aren't mixed martial arts fans. They want to see K-1 kickboxing with small gloves and not MMA. … I'm always working to finish fights. There are two guys in the fight, and if the other guy is looking to just survive, it's hard to finish."
Fitch is only half correct: There are tough, durable guys in the UFC, and finishing before the clock runs out can be trying. But for virtually every opponent he has faced during his recent run, another fighter has been able to manage it. Fitch didn't finish Akihiro Gono, but Dan Hornbuckle did. He couldn't finish Paulo Thiago, but teammate Mike Swick managed. (Consecutive decision No. 7 could have happened Saturday at UFC 111, but Fitch's opponent, Thiago Alves, was removed after a CAT scan revealed brain irregularities.)
If the strategy is to turn a sprint into a marathon, maybe Fitch is on to something. But it doesn't mean fans have to like it.