Dave Mandel/Sherdog.com
Brian Bowles can make believers out of doubters when he defends his title for the first time.
Had he been acknowledged at all, West Virginia native Brian Bowles was on radar in summer 2009 as a tough and determined bantamweight who was destined to become another victim of a ferocious Miguel Torres, the then-37-1 star attraction of the bantamweight division.
Bowles either refused to read that script or simply tossed it out: he knocked out Torres in one of 2009's biggest upset victories. While Torres regains his bearings on Saturday's undercard, Bowles will defend his belt for the first time against Dominick Cruz, the 14-1 positional player who was once a contender at 145 pounds. It will be a good fight; Torres' return will be a good fight. The WEC traffics almost exclusively in good fights. It's as good a guarantee as you can get in the fight game.
What: "World Extreme Cagefighting 47: Bowles vs. Cruz," an 11-bout card from the Nationwide Arena in Columbus, Ohio
When: Saturday, 10 p.m. ET on Versus
Why you should watch: Because both Bowles and Torres are clearly working toward a rematch that could be the bantamweights' biggest ever; because Jens Pulver has exhausted all other options in MMA and desperately needs a win against Javier Vazquez to remain a player; and because Judo player Karen Darabedyan will one day find it necessary to launch someone through the air.
Fight of the night: Torres-Joseph Benavidez, which should be energized with Torres' frustration at getting knocked off his perch.
Hype quote of the show: "I hope I'm not the guy that retires him. … But chances are I probably will be. I don't want to be the one that closes the coffin, but I'm going to have to be. Better him than me at this point." -- Vazquez on Pulver and fighter morbidity, to UFC.com.
Questions: WEC 47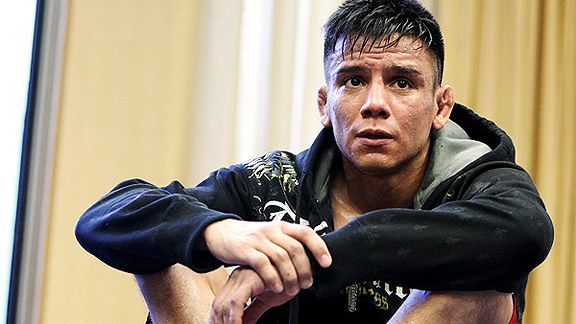 Sherdog.com
Miguel Torres has had plenty of time to reassess his career since a shocking loss in August.
Q: What does Torres have to do in order to make a statement?
A: Torres was previously the world's undisputed toughest man at 135 pounds, but a knockout loss to Bowles in August dulled that shine considerably. Beating Benavidez on Saturday is a must, but the difference between Torres being written off as a stuttering fighter and being hailed as one who's righted his own ship could be in finishing off the notoriously hard-nosed Benavidez, who has never been stopped.
Q: Is Ohio a proper test of the WEC's brand power?
A: Thousands of gym rats and fight fans converge every March for the Arnold Classic, a celebration of garden-hose vascularity and protein powders. The UFC ran there in 2008 and 2009 to great success: even a Quinton Jackson-Keith Jardine-headlined UFC 96 drew 17,000.
The WEC has normally been content to run in smaller venues: the Nationwide Arena might be a way to bolster attendance and expose more prospective fans to the brand by piggybacking on an established organization.
Q: Is Pulver running on fumes?
A: A former UFC lightweight champion, Pulver has won once in the past four years while dropping six: it's speculated that a loss to Vazquez on Saturday could get him hustled to the exit. Fortunately, few of Pulver's several losses came as a result of neural disconnect: he was submitted in half of them and knocked out in two.
Age is kind to no one in combat sports, but it's especially harsh on lighter fighters that see speed disappear and refuse to complement power they never had. At 35 and with 11 years of pro competition behind him, there may not be any camp or psychological change that can dispute that.
Red Ink: Bowles-Cruz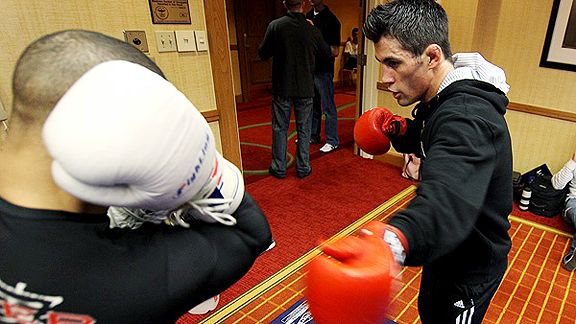 Sherdog.com
It's a stretch, but Dominick Cruz's reach might present problems for Brian Bowles.
Take out the second act of any Bowles fight and you're left with an ending that wasn't all that obvious in the opening minutes. Bowles is clearly fit, fast and capable, but he displays little of the dizzying offense or athleticism that we see in other fighters. He can be taken down, clocked and otherwise made to look very human.
But he wins. All the time. Skip to the finish and see Bowles ending bouts inside of the distance. He is not a steamrolling fighter and not a guy who's going to plow through you at the bell. Instead, he'll dig in. Eventually, you'll make an error that leaves you vulnerable for a half second. And maybe his low-gear pace is intentional: it gives him a chance to see that opening and put his fist through it. He has never won a decision because he's never gone to a decision.
Cruz, Bowles' opponent Saturday and the first challenger for Bowles' 135-pound title, bounces on the balls of his feet, loops punches powered by a long frame and doesn't appear to have a huge deficit anywhere. With a 14-1 record, he doesn't make many mistakes. He's also one of a handful of MMA fighters who realize "combinations" can include kicks.
What It means: For Bowles, a chance to prove his KO over Torres was no easy luck; for Cruz, an opportunity to dethrone Bowles before he barely got used to the smell of the leather.
Wild card: Bowles is thought to have smarter hands, but Cruz's reach can be off-putting.
Who wins: Bowles, after Cruz puts him in some brief trouble.