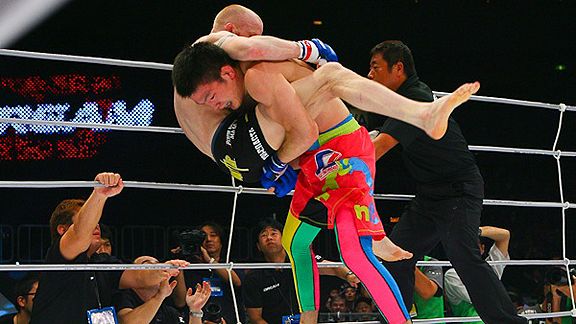 Daniel Herbertson
Sorry, Shinya Aoki: Neon tights and a nifty grappling game aren't enough to carry a Strikeforce card.
The problem with Strikeforce's compressed schedule is that it often doesn't leave room for improvisation. Without Fedor Emelianenko, their April 17 show in Nashville lacks anyone that will induce a nervous gut reaction in audiences. Herschel Walker would seem to be a proper substitute, but he simply doesn't have enough time to train for that date.
Tweet, tweet

Don't miss a moment of the latest MMA coverage from around the world. Follow us on Twitter and stay informed. Join &#187
Walker's absence takes the show's narrative in a different direction: Without a mass-media hook, ratings will depend almost exclusively on the appetite for solid fights between anonymous (to network viewers) athletes on over-the-air television. Shinya Aoki, Gilbert Melendez and Gegard Mousasi are all capable and intriguing fighters, but they have none of the resonance that an ex-NFL player or a Russian bruiser would for viewers torn between free fights or a repeat of "Spider-Man 3." These are not facts that thrill me, but they are what they are.
The dark horse of this predicament is Dan Henderson, who has gotten several positive audience pops in recent months at Strikeforce events and is coming off a sensationally hyped performance at UFC 100. Certainly a portion of that show's 1.5 million pay-per-view households will remember Henderson annihilating Michael Bisping and tune in to see what he attempts to obliterate next.
Unlike the UFC, which can sell low-watt cards based solely on that acronym, competing promotional entities are heavily reliant on personalities. When Kimbo Slice skipped EliteXC's second CBS telecast, ratings went down 40 percent from the inaugural installment. Aoki talking trash in Japanese is probably not going to burn up the Nielsen boxes.