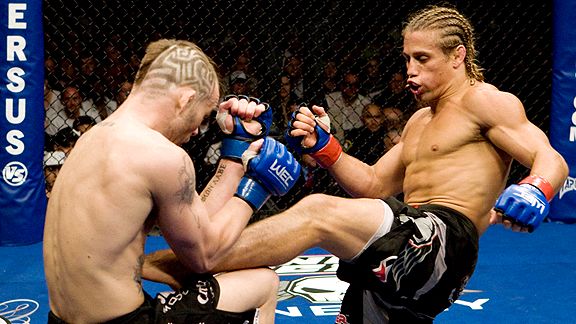 Josh Hedges/Zuffa/UFC
Take a hint, Zuffa: A countdown show did wonders for Urijah Faber-Jens Pulver 1 on Versus.
It should be obvious by now that both Zuffa and Versus see their March 21 debut of a UFC event on the channel as a lighthouse for the World Extreme Cagefighting brand. If fans tune in for a brand they recognize and trust, they might stick around for more MMA programming on the same channel.
According to MMAJunkie.com, Versus will be airing a countdown show special March 6, similar in content and tone to the Spike barker shows that normally precede pay-per-views. That Zuffa is making this effort and expense for a free cable show is a fairly significant indication they see "UFC on Versus 1" as a crucial appeal to bolster the sister brand. Why they rarely provide the same support for the actual WEC shows is stranger thinking: a preview show for the first Jens Pulver-Urijah Faber fight helped that broadcast draw an impressive 1.5 million viewers.
The WEC is a strong and consistently entertaining brand, but sporadic promotion is not doing them many favors. Instead of a UFC barker -- a brand that needs little help -- why aren't we seeing a countdown to the Brian Bowles/Dominic Cruz fight that same night?