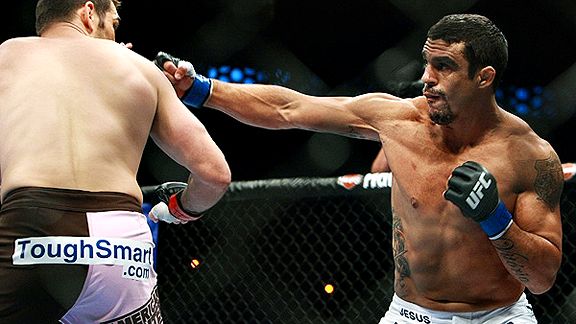 Dave Mandel/Sherdog.com
Vitor Belfort, who hasn't fought since his TKO of Rich Franklin last year, might finally be ready.
Vitor Belfort -- who has been out for more than a year because of injury and scheduling headaches -- recently tweeted that he won't be waiting for Anderson Silva and that he expects a November bout, opponent TBA.
It had been a three-way proposition. Chael Sonnen was both the likeliest and least attractive option; undoubtedly a top contender after his performance at UFC 117 earlier this month, he's also the kind of smothering wrestler Belfort has traditionally struggled against. (A source close to Belfort claimed Sonnen isn't in the mix.) Chris Leben would be a gift; he's a banger, gritty, but not near as sharp on his feet. Yushin Okami would make Belfort look bad even in a win. The guy has a knack for that.
In any case, Belfort is doing the right thing by competing. Fighters have such an incredibly small window of opportunity that waiting for the perfect time to fight is a lost cause. Belfort risks losing what might be a secured title opportunity, but if he's looking to play it safe, he's in the wrong business.