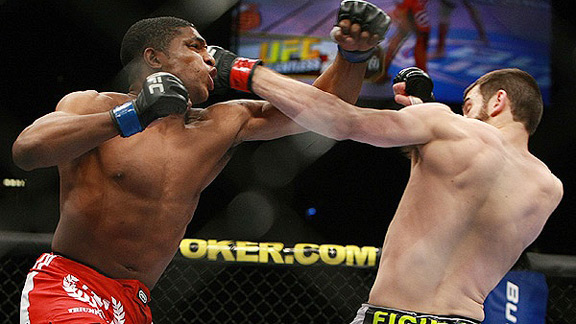 Dave Mandel/Sherdog.com
Can Paul Daley, left, cut down Josh Koscheck to give Georges St. Pierre any comp at welterweight?
The UFC announced Tuesday that standout striker Paul Daley will meet Josh Koscheck in a welterweight eliminator at UFC 113 on May 8. The fight will follow a Jon Fitch-Thiago Alves rematch scheduled for UFC 111 on March 27. It's likely that a winner emerging from either fight would face Georges St. Pierre after he defends against Dan Hardy at UFC 111. (I've come to accept that as a statement of fact. Apologies to Hardy fans.)
Yet St. Pierre has already defeated Fitch, Alves and Koscheck, all in somewhat one-sided decision festivals. Daley's striking could certainly present problems, but there may not be much to stop St. Pierre from grinding out an NCAA-style win that quickly has becoming his trademark.
So why are we even looking at such a mundane 2010 for the champion? St. Pierre has put on 10 pounds of mass since altering his diet, and his trainers indicate he can only be pushed in training when paired with larger men such as Rashad Evans. Providing he beats Hardy, the interest in seeing any of those three possible rematches pales in comparison to a bout with Anderson Silva or another quality middleweight.
For St. Pierre, 170 is yesterday's mail.