A fighter with indomitable will to succeed is a powerful thing.
Leading into his UFC 109 bout with Randy Couture, Mark Coleman was exemplifying the kind of grit and attrition that had marked some of the bigger milestones in his career. If you didn't expect him to win, you had to at least expect a fight.
Tweet, tweet

Don't miss a moment of the latest MMA coverage from around the world. Follow us on Twitter and stay informed. Join &#187
Coleman's supporters got sobered up quickly. From the opening bell on Saturday, he had no answers for a man several months older than he was. Couture beat Coleman to the punch time and again, worked him over in a clinch and finally locked in a choke. It was a match between a wrestler turned MMA fighter and a wrestler who fights in MMA. A marked difference.
Aided by Coleman's frozen offense, Couture produced the kind of footage that probably will help propel him into an umpteenth title bid. And why not? There are few stories as enduring as Couture's ability to remain a highly capable underdog. The suspense is leaking out, but Couture against Lyoto Machida is a big business fight. And the UFC is all business.
For purists, the real main event came 20 minutes before, when Chael Sonnen had the best -- and unlikeliest -- performance of his career, battering Nate Marquardt from inside Marquardt's guard for 15 solid minutes. Sonnen has all the wrestling ability in the world, but he was never able to put a complete game together for any consistent success. Now 3-1 in the UFC's middleweight division, he could find himself up against Anderson Silva next. It may not be the reward he was expecting.
Next for Couture: Possibly a title bid against the winner of Mauricio Rua-Machida in May, although he easily could squeeze in a fight before then.
Next for Coleman: Getting shellacked by Couture only means you join a long and storied list of current and former champs who were shut down. If his jaw session with Tito Ortiz is any hint, he may wind up fighting the winner of the Ortiz-Chuck Liddell bout in the summer.
Next for Sonnen: The winner of Silva-Vitor Belfort in April. His chances against Belfort are exponentially better.
Next for Marquardt: Yoshihiro Akiyama would be a test; the winner of this month's Michael Bisping-Wanderlei Silva bout would keep him on the title radar.
Awards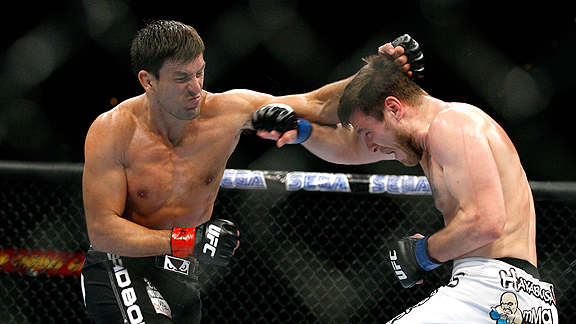 Ric Fogel for ESPN.com
Demian Maia, left, might have earned the decision but it was hardly pretty.
The manic meltdown award: Commentator Joe Rogan, for appearing personally offended when officials failed to clean up an in-ring ice cube spill as fast as he would have liked. I didn't want anyone to slip, either, but anyone trying to grab ice cubes in front of 10,000 people has my sympathy.
Hair today, gone tomorrow award: Frank Trigg, for dropping the fight to Matt Serra with mold growth on his head. This is almost certainly Trigg's last stand in the UFC. He should consider a 185-pound run in Strikeforce.
The stalemate award: Demian Maia and Dan Miller, each for respecting his opponent's ground attack and engaging in some seriously mediocre boxing.
Class dismissed award: Ortiz, for another in a series of highly manufactured and desperate attempts to stir attention, this time berating Coleman near the cage after losing. Ortiz is a full decade younger, but in their respective primes, Coleman would have used his intestines for a jump rope.
New questions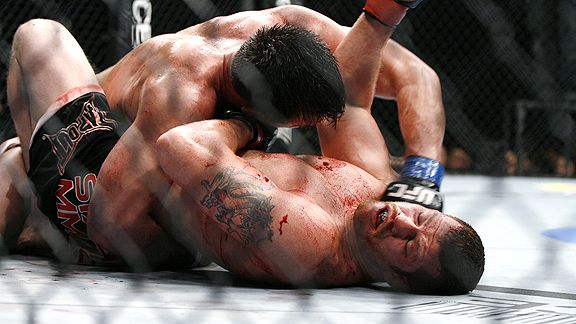 Ric Fogel for ESPN.com
On top of his game: Chael Sonnen, top, proved his worth at middleweight by dominating Nate Marquardt.
Q: Is Couture getting younger?
A: Unimpressive versus Brandon Vera in November, Couture came out looking razor-edged against Mark Coleman: He landed rights and lefts, he blitzed in the clinch, he went for elbows. Some of the performance was due to Coleman missing steps, but Couture seems to exhibit virtually none of the slowdown or wear that should afflict a fighter of his age and experience. He would have to be the sportsbook underdog in a fight with Machida, but an ability to press Machida against the fence and work from under his chin would keep it interesting.
Q: When did Sonnen become a top-10 middleweight?
A: A career-long vulnerability to submissions had left Sonnen in perpetual runner-up status. After he came over to the UFC from an expired WEC division, many expected his eviction to be a formality. But he hung in there, amassing three good wins against tough opponents (versus a loss to Maia). Against Marquardt, Sonnen finally repaired the fracture in his game and refused to get tied up in a permanent knot. Now he's being earmarked for a title shot against Silva. Not bad for a part-time fighter and full-time real estate agent.
Q: Is Paulo Thiago next in line for Georges St. Pierre?
A: If not for the stifling offense of Jon Fitch, Thiago would be a perfect 14-0 in his career. As is, he'll have to settle for 13-1 and a big submission win over Fitch teammate Mike Swick. Presuming St. Pierre gets by Dan Hardy in March, Thiago could prove to be a more interesting selection than the winner of a planned Thiago Alves-Fitch rematch.
Q: Is the WEC due for a boost by its benefactor?
A: For the first time in the company's history, Zuffa promoted a non-UFC pay-per-view event Saturday by trumpeting the Urijah Faber-Jose Aldo showdown during a pending April 24 WEC date. (It'll shortly be asking customers to purchase UFC 112 just two weeks earlier.) The company also has hung hopes that UFC specials on Versus will draw some attention over to the WEC brand.
Ultimately, that promotion might need more than just the occasional show plug. It needs resources to help foster a reality show or some kind of subversive marketing that can mimic "The Ultimate Fighter's" success for its bigger brother. The irony: Zuffa has done enough of a job cementing its UFC brand that many fans are reluctant to sample other wares. Even Zuffa's own.
This and that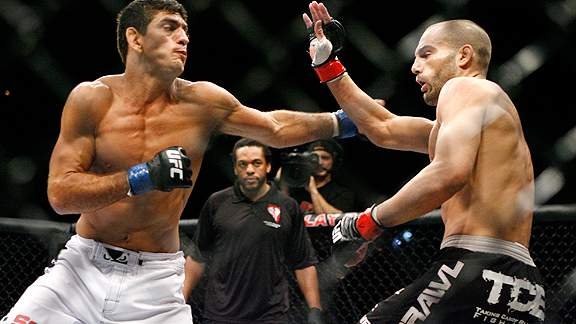 Ric Fogel for ESPN.com
Paulo Thiago, left, earned a cool $60,000 bonus for submitting Mike Swick.
• Of the two submissions in 10 bouts, promoters decided Thiago's choke on Swick was more impressive than Couture's squeeze over Coleman: Thiago earned $60,000. Marquardt and Sonnen split $120,000 for fight of the night. If there had been a cash reward for self-promotion, Sonnen would have doubled his pay. …
• UFC president Dana White indicated to the media that Coleman was "probably" finished in the UFC after his loss to Couture, citing the march of time. Age might not be as big a factor as Coleman sucking up weight for the first time in his fight career. …
• Rolles Gracie lost his preliminary fight to late replacement Joey Beltran, squashing hopes that there might be a heavyweight presence with one of the most famous names in the sport. Roger Gracie, who signed with Strikeforce in 2009, has yet to resurface.