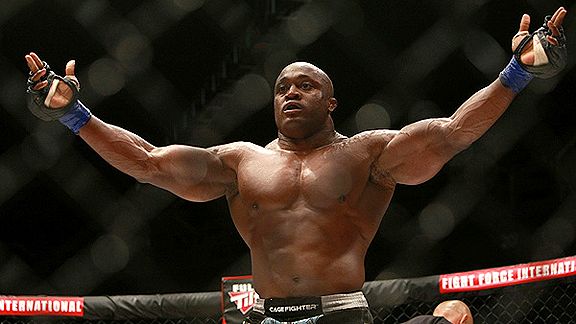 Dave Mandel/Sherdog
Does this look like a man who might break under a little pressure to you?
Two ways to respond to the Wrestling Observer's news that Wes Sims is being floated as an opponent for Bobby Lashley on Jan. 30: You either think Sims is a tough vet who once orbited the top 10, or you think Lashley's career is being gifted with yet another glorified sparring session.
Sims has just about a decade invested in this thing, and he's good interview fodder. But the closest he has come to relevance was beating Marcus Silveira in 2002, about six years past the point when beating Silveira would matter. In his three most recent wins back in 2008, Sims failed to beat a single fighter with a winning record. (Jason DeAngelo somehow assembled a 1-8 mark, which is more in the "self-torture" than "competition" department.) Less charitably, if you were to press someone on Sims' greatest combat-athletics attribute, you might be in for a long, awkward pause.
Can the fight mean anything? Beyond getting Lashley some exposure on Showtime, not particularly. A 265-pound amateur wrestler isn't made of glass, gang. Throw him Mike Kyle. Lashley won't break.