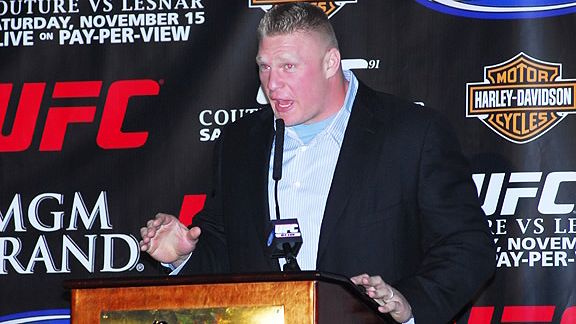 Sherdog.com
Brock Lesnar appears set for a return to the Octagon, but questions about his condition remain.
On Wednesday morning, ESPN's "SportsCenter" was able to solicit information about the condition of Brock Lesnar from the only man truly qualified to comment on the subject: Brock Lesnar.
Tweet, tweet
Don't miss a moment of the latest MMA coverage from around the world. Follow us on Twitter and stay informed. Join »
Lesnar felt ill for a long time. When he was in Canada, he suffered an acute diverticulitis attack. (Diverticulosis, the development of multiple small, pouchy areas in the colon because of either genetic misfortune or a poor diet, is present in a portion of the population; when the areas become inflamed or infected, the ensuing abdominal pain and general malaise is termed diverticulitis.) Lesnar returned home, was hospitalized, lost 40 pounds while subsisting on an IV diet intended to rest his colon, and faced the possibility of career-threatening surgery.
As of yesterday, a CT scan revealed that diet modification had eliminated or significantly reduced the diverticula (the pouches), something both Lesnar and Dana White dubbed "a miracle." (Normally, the only way to eliminate these areas is to cut and resection the colon; they do not simply get bored and disappear.) As of now, surgery isn't imminent. Lesnar has regained 30 pounds. Cosmetically, he looks like he could crash a car and walk away laughing about it.
What remains unanswered -- and hopefully it's something Lesnar's doctors are exploring -- is what, exactly, caused Lesnar to develop the diverticula in the first place. Medical literature points the finger at a Westernized diet high in fat and low in fiber, which makes the colon strain to pass waste. Although athletes generally aren't expected to be guilty of poor eating habits, a Lesnar special on Spike a year or two ago showed him devouring a cheeseburger and fries following a workout -- complete with an explanation that Lesnar burns so many calories that he can afford to indulge. I would hate to see what one of his cheat days looks like.
Lesnar is expected back in the Octagon in the summer, likely against the winner of March's Shane Carwin-Frank Mir interim title bout.
Some information obtained via poopreport.com. Do not, under any circumstances, visit poopreport.com.