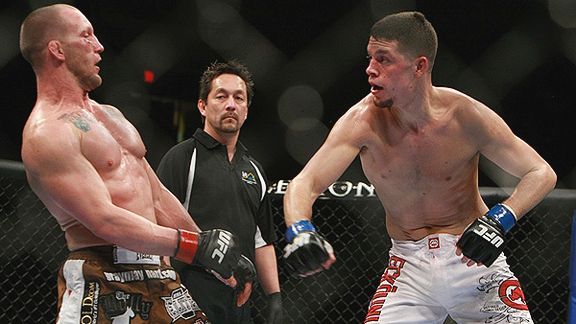 Dave Mandel for Sherdog.com
It didn't take long for Nate Diaz, right, to find excuses for his loss to Gray Maynard.
First knee-jerk reaction to a loss: blame an injury. Second knee-jerk reaction to a loss: consider a move in weight.
After being beaten -- but hardly nicked -- by Gray Maynard during a Monday UFC Fight Night, Nate Diaz mulled a move to 170 pounds on his camp's Graciefighter.com landing page.
"I really don't think I'm going to stay at 155 pounds," he said. "I don't make enough money to have to drop this much weight so I'd like to fight at 170 and only go to [155] every once in a while."
This is at least a departure from the norm of sucking up weight to the point of needing an IV, but Diaz at 170 pounds is an ugly thought after consideration of his performances against wrestlers at 155 pounds. Is better fortune really to be found against guys 20-25 pounds heavier?
There's at least some precedent for this: his brother Nick looked better at 185 pounds in recent outings than at 170, but then again, he wasn't up against any wrestlers. Stay at 170 and you will eventually rub up against the Thiago Alves' of that world. Not encouraging.