As an event orchestrated almost exclusively around a coming-home gimmick for Memphis native Quinton Jackson, Saturday's "UFC 107: Penn versus Sanchez" fails rather miserably. (Jackson is too busy becoming the next Brian Bosworth.)
As a card bolstered by two homicidal 155-pound fighters, it should be judged for what it is, not what it could've been.
With Georges St. Pierre having beaten the 170-pound aspirations out of him, B.J. Penn appears to be as strong as he's been, mentally and physically, during his entire nine-year career. He's hell to take down, more or less immune to submissions if you can take him down, and shows off cleaner hands every time he engages. Gone is the fighter who bounced from class to class, ballooning to take on Lyoto Machida in Japan like an MMA Robert De Niro.
To know a great athlete is diluting his own mark by toiling in weird, random bids is frustrating. He's found his fit. It's a pleasure to watch. Keep him away from the white flour.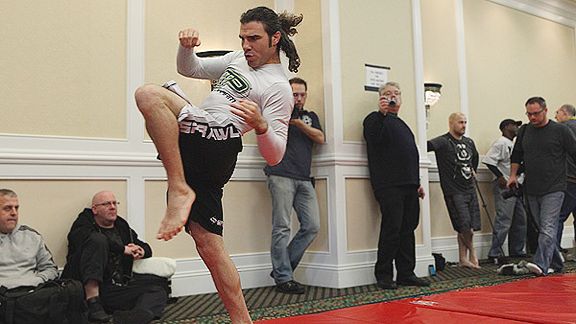 Dave Mandel/Sherdog.com
Expect Clay Guida, above, to fight every minute of every round against Kenny Florian.
What: UFC 107: Penn versus Sanchez, an 11-bout card from the FedEx Forum in Memphis
When: Saturday, Dec. 12, at 10 p.m. ET on pay-per-view
Why you should care: Because Penn won't be able to sit back against a hyper Diego Sanchez; because Frank Mir has slowly morphed into a hulking Zen master of bone-breaking; because you can actually lose weight watching Clay Guida fight; and because Paul Buentello aiming for the altitude head of 6-foot-11 Stefan Struve provides some high-altitude drama.
Fight of the night: For both consequences and action, it's hard to think anything other than a flash KO will stop Penn/Sanchez from being a Fight of the Year contender.
Sleeper fight of the night: Alan Belcher versus Wilson Gouveia; Gouveia likes his finishes and Belcher's fight with Yoshihiro Akiyama earned fight-of-the-night honors in July.
Hype quote of the night: "[Cheick Kongo] might recently have decided to [work more jiu-jitsu,] but that just shows the mindset: If it took this long to have a fight with me before starting to improve, how motivated are you to do it?"-- Mir to Sherdog.com and gathered media
Five questions: UFC 107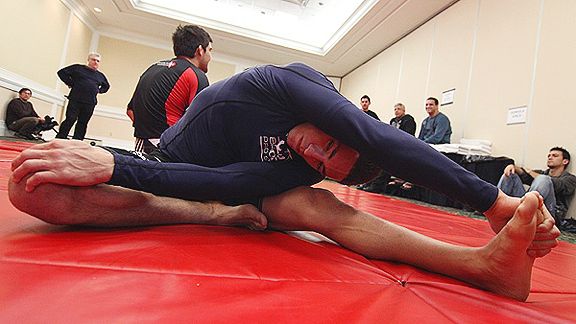 Dave Mandel/Sherdog.com
Judging by past performances, it's a stretch to assume Diego Sanchez can go five rounds with B.J. Penn.
Q: Sanchez or Penn: whose cardio chokes first?
A: There's not much enthusiasm left to beat the tired drum about B.J.'s lack of cardio conditioning, particularly in light of recent, long-form fights. (A TKO loss via mugging against St. Pierre being the exception.)
Doesn't matter: If Sanchez is at all likely to overcome Penn, his best chance remains in the championship rounds, where he can keep Penn going backward and wasting oxygen on resisting aggressive takedown attempts.
This all assumes Sanchez has the cardio for the last 10 minutes, which is no guarantee: He's never seen the back two in his career. And while he's often looked fresh enough at the conclusion of three, he's never seen three against Penn.
Q: Will Mir's muscle be binding?
A: Frank Mir weighed 245 pounds for a July rematch with Brock Lesnar. On Friday, he expects to cut a pound or two in order to make the 265-pound ceiling for the heavyweight division. Through strength training with Mark Philippi, he is now carrying the equivalent of a lean Thanksgiving turkey.
This is intended, Mir says, to help offset the power presented by Lesnar in his hoped-for rematch. What demands it will place on Mir's cardiovascular system is something Cheick Kongo should be wondering about. Nearly two-thirds of Mir's 16 pro fights have ended in the first round, and he's given few indications that his cardio base had a lot of surplus to lose. If MMA is closer to a triathlon, why is Mir training like a power lifter?
Q: Can Cheick Kongo stay on his feet?
A: Kongo has been dumped to his back by Cain Velasquez (no shame) and Heath Herring (some shame), while Mir has never shown any particular proficiency in getting the fight where he wants it. Against Lesnar, David Abbott and Tim Sylvia, he just somehow winds up there. Kongo's increasing ability to punish fighters coming in -- as seen against Velasquez, whom he rattled -- and Mir's additional horsepower make for a brand-new equation.
Q: Can Greg Jackson top Guida's game?
A: Opinions vary on whether Guida's all-systems-go attack is amazing or just stifling, but he remains a heavy burden for anyone in the 155-pound division: Beating him should be worth hazard pay.
Guida flirts with the top of the totem, but he never quite gets a consistent hold: Wins over Nate Diaz and Mac Danzig got swallowed by losses -- hard, close losses -- to Sanchez and Roger Huerta. Training with Greg Jackson's Albuquerque finishing school might finally allow him to complement his top game by adding conclusive skills. If you can finish a fight, the other guy can't take it away from you.
Q: Is Fitch clogging the 170-pound drain?
A: In 11 Octagon appearances, Fitch has lost only once, and only after making St. Pierre work for 25 minutes. He can outwrestle virtually anyone in the division, stays out of trouble standing and generally can't help but make good fighters look bad by ripping out their batteries.
What do you do with a guy like that? Because of his style -- Fitch has run out the clock in his last five fights -- the crowd isn't behind him; that same game may be preventing some good fighters from moving ahead. It's hardly Fitch's fault that he's tough, but it does make division traffic slow down.
Red Ink: Penn-Sanchez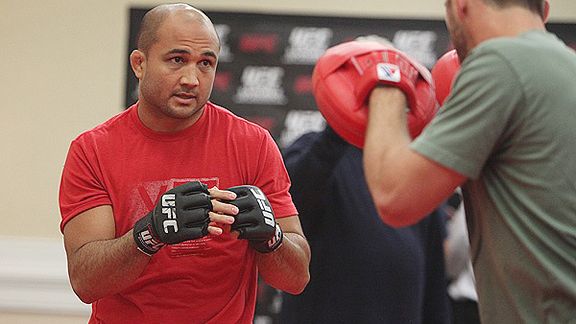 Dave Mandel/Sherdog.com
Kenny Florian believes B.J. Penn can everything Diego Sanchez can, but better.
When asked about Sanchez's chances against Penn Saturday, Kenny Florian -- a man who has fought and lost to both -- said that he believes Penn does everything Sanchez can do. Only better.
Probably true, but that's not a prediction. Superior fighters lose to less talented opponents for reasons having no relation to skill: fatigue, a faulty game plan, a midfight surprise and, most often, a tactical error.
Sanchez probably can't bully Penn around, but he can get in his face with (A) more worrisome power than Florian brought, and (B) better reach than the compact arms of Sean Sherk. He brings more to the table than Penn's previous victims, and there may come a moment when Penn takes just a second to reset. It's all Sanchez needs. The guy just does not stop.
What it means: For Sanchez, a chance to become only the second man to defeat Penn in the 155-pound division; for Penn, another checked box in what could turn out to be a lengthy, historical title run.
Might look like: Sanchez's last fight against Clay Guida, which was a lot of back-and-forth jockeying for position. Fighters at levels this high tend to spend a lot of time vying for control more than they actually spend in control.
Wild card: Penn's midfight boredom, as lots of anaerobic activity can tend to have him hanging on rather than pressing the fight.
Third-party investor: Gray Maynard, who probably would have a better chance against Sanchez than Penn if he earns a contender's slot.
Who wins: In abandoning erratic training and diets, Penn has done the most dangerous thing he's capable of: transplant his skill into an athlete's body. It's hard to imagine anyone having an answer for it until he's tired of proving himself. Penn via grueling, gory, biohazard decision.