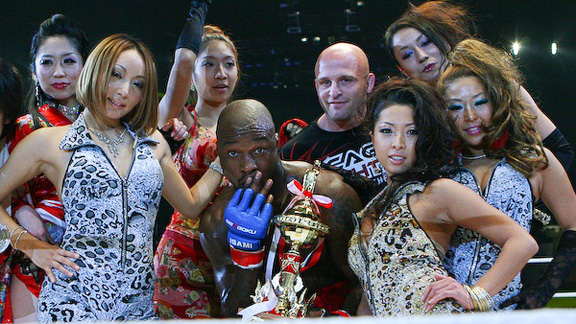 Daniel Herbertson/Sherdog.com
Muhammed Lawal clearly understands the self-promotion game, but is he seriously ready?
Of course Muhammed Lawal wants to fight Fedor Emelianenko. What's the downside? Lawal is barely off his training wheels in MMA, roughly a year into a promising career, and competing predominantly at 205 pounds. If he lasts six seconds, he'll be hailed with the same reverence as the guy who can stay on the bull for that long. If he beats Fedor? Instant adulation. Parades. Biopic. Cheaper car insurance, even.
Tweet, tweet
Don't miss a moment of the latest MMA coverage from around the world. Follow us on Twitter and stay informed. Join »
The hypothetical bout, which Lawal discussed during an MMAJunkie radio spot this week, would presumably have to follow Emelianenko's fights with Fabricio Werdum and Alistair Overeem. Unfortunately, Werdum isn't exactly Captain Captivating in the charisma department, and Overeem may no longer fit in a standard-issue airline seat. Strikeforce is going to have to get creative with Emelianenko sooner or later.