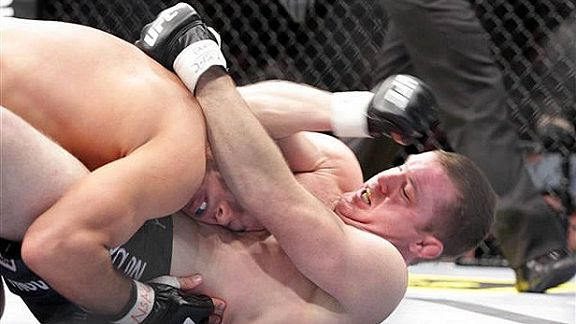 Sherdog.com
The extra time off between recent fights has done Matt Hughes no favors.
Ten to 20 rounds of hard sparring a week is never a substitute for defending yourself against someone trying to remove your head for a prize. But that hasn't kept Matt Hughes from adopting what appears to be a Spartan work philosophy, one that could set him up for some serious career trauma.
Tweet, tweet
Don't miss a moment of the latest MMA coverage from around the world. Follow us on Twitter and stay informed. Join »
Hughes is targeting an April 2010 return date to the Octagon, according to his blog. That would mean nearly a year's absence since a May 2009 fight with Matt Serra, which was itself nearly a year removed from a June 2008 bout with Thiago Alves. You could time your colonoscopy screenings by this schedule.
Against both Alves and Serra, Hughes looked nothing like the steamroller of years past. How much of that is due to fighting better competition (or age) and how much of it is his reluctance to mix it up every few months is debatable. But the layoffs aren't helping.