Notes and nuggets from Houston
October, 7, 2011
10/07/11
8:58
AM ET
By Chuck Mindenhall and Chad Dundas
ESPN.com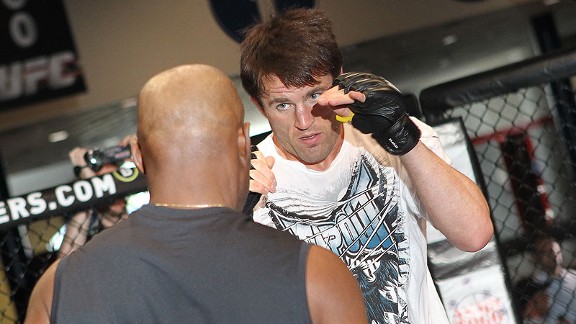 Ed Mulholland/ESPN.comChael Sonnen was back in not-so-rare form during Thursday's open workouts.
HOUSTON -- So what's Chael Sonnen's game plan heading into his fight with
Brian Stann
? It's obviously going to be to a classic mortar and pestle wrestling clinic if things go his way, with him acting as the pestle -- that's what he does.
But Sonnen doesn't plan on doing that. In fact, he says he doesn't plan on anything, other than showing up bodily on Saturday night and in a mood to fight.
After all, he reminded the media on Thursday, it's not like he has a bunch of bling in his mouth. Say, huh?
"You can take all these guys with their eighth grade education and their gold teeth trying to sit around and break down a fight," Sonnen told the media scrum at the open workouts, dismissing all notions of premeditation. "This is the most unsophisticated thing you need to do in life. Two half-naked men are going to get in a steel cage and fight for the applause of a drunken, rowdy crowd in Houston, Texas on Saturday night. We don't need to plan for this."
That's the old Sonnen simplicity right there, and frankly, it's good to have him back contradicting all the claims against him. Sonnen is returning after 14 months out of action to face Stann in what will either be a title shot or something within earshot of a title shot. It's a fairly major deal for those who like penultimate action, and yet most have barely noticed because it's been a very cordial approach.
For the last eight weeks, Sonnen has been nothing short of a gentleman toward Stann, whom he considers a friend. You think it's out of character, but Sonnen reminds everybody that he's never in character -- he is always just himself. We merely see what we want to see (and sometimes what he tells us to see).
Looking back, it's true. Sonnen was equally respectful of
Nate Marquardt
,
Dan Miller
and
Yushin Okami
ahead of his fights with them. He picked on
Anderson Silva
heading into UFC 117 because he doesn't like Anderson Silva. Which brings us to one more lesson in understanding Chael. Even the whole Silva thing was one grand show of respect. At least if you abide by his definition of the word.
"I think I'm the most respectful guy in this sport," he said. "I have a vastly different opinion of what respect means than some people. Some people think it's respectful to lie and be nice to your face and bow and put in knife if your back when you turn around. I will tell you to your face that when you turn around I am going to put a knife in your back, and then I'll do it. That's respect."
How's that for up front? It's good. But Sonnen would tell you there are no fronts.
Edgar, Maynard eager to settle up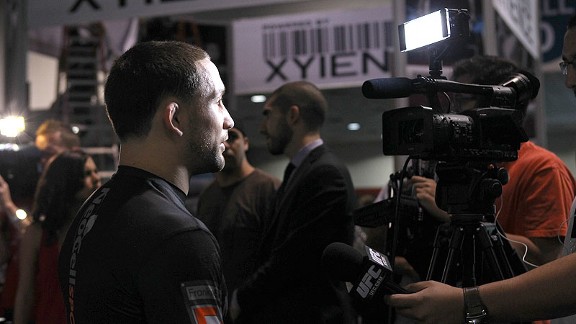 Ed Mulholland/ESPN.comOutside the cage, there's no bad blood between Frankie Edgar, above, and Gray Maynard.
Frankie Edgar
and
Gray Maynard
are clearly ready to move on. Both guys are over this rivalry that has stretched on since their draw at UFC 125 on Jan. 1, and while both appeared loose and upbeat during Wednesday's open workout, each was also fairly succinct when fielding questions about their third meeting inside the Octagon on Saturday. Still, while the pair is clearly frustrated by the idea of this do-over, they both contend there's no real personal animosity between them.
"I approach it how I always approach it," Edgar said. "There's no need to get excited right now, there's no need to be angry-faced or p---ed off right now. Once I step in the cage, it'll take care of itself."
"He's a good guy," Maynard echoed. "Everyone will tell you he is a nice guy. I'm more angry at the draw and how did I allow that to happen? I'm pumped to have it again, to prove to everyone that I can beat him ... For me, I have to make it happen. I have to take the bull by the horns and to prove that I am the man that deserves the belt."
Gray trusting power of the hair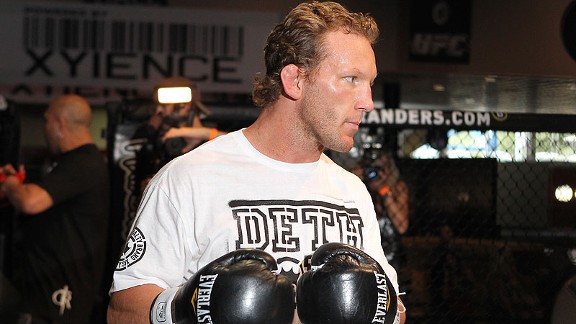 Ed Mulholland/ESPN.comGray Maynard has taken a page out of Samson's book ahead of his rubber match with Frankie Edgar.
Maynard also admitted on Wednesday that he's been using his girlfriend's shampoo to care for the flowing blond locks he's been cultivating over these last few months. The new do is a stark contrast to the shaved head look he sported in previous Octagon appearances and he says it's a style he decided to borrow from other lightweight contenders, who make 155 pounds not only the most competitive division in the UFC right now, but also the shaggiest.
"That was my game plan," Maynard said of the hair. "[Clay] Guida is doing good with it and [so is]
Ben Henderson
. They're kicking butt in this sport, so I'm trying it out."
Aldo not sweating weight cut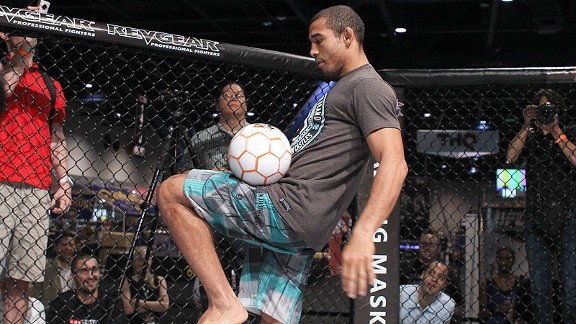 Ed Mulholland/ESPN.comAll fun and games: Making weight has been the last thing on Jose Aldo's mind.
There has been a lot of talk of how featherweight champ
Jose Aldo
would approach his cut to 145 pounds leading up to this weekend's title defense against
Kenny Florian
.
After the UFC released a video last week showing Aldo struggling mightily to drop the last few pounds prior to what some viewed as a disappointing unanimous decision victory over
Mark Hominick
at UFC 129, questions were duly raised about the champ's future at featherweight. On Wednesday, though, Aldo assured everyone that weight will not be an issue in these final few days before he takes on Florian.
"This time is going to be a lot easier," he said, through an interpreter. "The last time, I hadn't fought for a few months and was out of the weight-cutting loop for a little while, so it was a little harder. This time, I came in a lot lighter and it's going to be a lot easier."
Aldo also confirmed long-held rumors that he came into the fight with Hominick a little bit under the weather, something else he promised will not be a problem this time.
"The last fight I had a few inflammations, but we all saw it didn't stop me," He said. "I went for five rounds, nonstop. For this fight, I'm completely healthy and 100 percent."
Stann identifies with Sonnen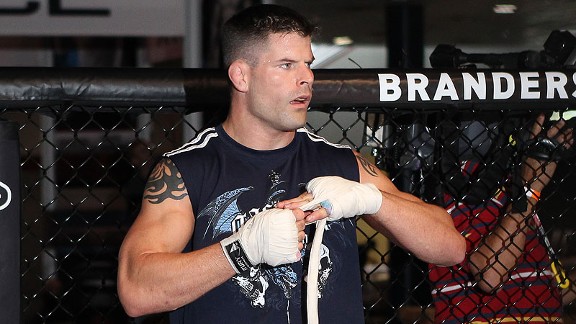 Ed Mulholland/ESPN.comBrian Stann can relate to some of the things Chael Sonnen has gone through in the past year.
It's not every day you hear a professional fighter issue an impassioned plea on behalf of a man he's about to fight, but that's essentially what Brian Stann did for
Chael Sonnen
on Wednesday. When confronted with questions about what he thought of Sonnen's somewhat checkered past -- his suspension for high testosterone levels after UFC 117 and his indictment on federal mortgage fraud charges -- Stann didn't respond with scorn or ridicule, but with understanding. Sonnen deserves it, his upcoming UFC 136 opponent said.
"I think he's made some mistakes and think what we're seeing now is a better person," Stann said. "We all make mistakes. Gosh, I know I've made every mistake you could possibly make and they've all made me a better person, just like my losses in fighting have made me a better person. I've been guilty of judging people before without really, really knowing them and I don't want to do that anyone. I don't ever want to do that [because] it's been done to me. I think he's grown as a person. We fall, we get back up."