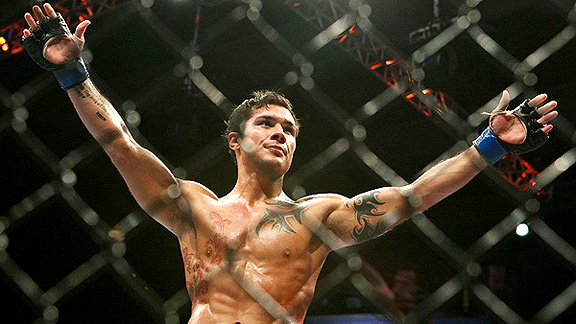 Dave Mandel/Sherdog.com
Roger Huerta has enough game -- and other intangibles -- to continue being an asset to the UFC.
It's not often that a fighter coming off consecutive losses is in high demand, but records don't always tell the entire story. Roger Huerta lost to former No. 1 contender Kenny Florian via decision; he split scorecards with imminent No. 1 contender Gray Maynard; he remains better-looking than most of us. No reason to hang his head. Now Huerta is available to take bids for his services.
Tweet, tweet
Don't miss a moment of the latest MMA coverage from around the world. Follow us on Twitter and stay informed. Join »
Although his UFC contract has expired, the promotion has the right to match any monetary offer for up to one year, which is good for Huerta: It means he can leverage competitor interest against the UFC. And that interest may be considerable. Strikeforce, Bellator and others likely will perceive Huerta as a key to the burgeoning Latino market.
The problem with his remaining in the Octagon is that Huerta has hit the wall. He couldn't beat Florian or Maynard, which gives champion B.J. Penn odds on deconstructing both his game plan and his face. (It may not matter: Huerta's style, like Forrest Griffin's, is to lose the tough fights but win fans with lockjaw determination.) Strikeforce is on solid footing, but the whims of CBS dictate the company's long-term viability as a major player; Bellator hasn't yet spent beyond its means, and it won't likely start with Huerta.
As with fellow free agent Dan Henderson, Huerta will find his best bet remains the UFC. He just can't act like it.