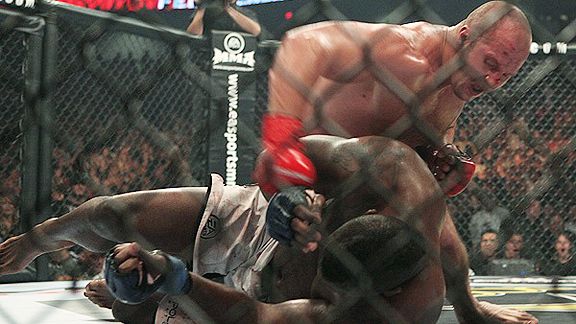 Dave Mandel/Sherdog.com
Saturday was a good day for Fedor Emelianenko: seven minutes of free advertising and a win.
The American public wants what it wants: Saturday's live bout between reputed No. 1 bruiser Fedor Emelianenko and former tire worker Brett Rogers scored 5.46 million viewers on CBS. In October, a tape-delayed, spoiled-result UFC telecast featuring Kimbo Slice and a distended Roy Nelson grabbed 6.1 million. It is this kind of mass-consumer thinking that will give us a "Transformers 3."
Tweet, tweet
Don't miss a moment of the latest MMA coverage from around the world. Follow us on Twitter and stay informed. Join »
Strikeforce's debut ratings for network television are roughly on par with what EliteXC drew in 2008. The promotion also won the evening in the prized "age 18-34 male" demo. But the idea that a basic cable channel could use a UFC logo and a boatyard athlete to outdraw a network special is a lesson in the UFC's crushing monopolization of the American fight business. Spike devotes hours and hours each week to putting that signature in neon lights. CBS has no similar investment in Strikeforce. This is the end result.
The rating -- solid, unspectacular -- answers one question, but the issue of retention remains. It should be addressed in a future broadcast, when we find out whether viewers were satisfied enough with what they saw to return. Emelianenko effectively got himself a seven-minute commercial on free television. That has to count for something.