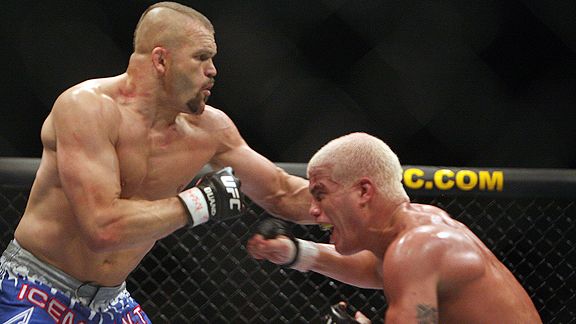 AP Photo/Marlene Karas
Tito Ortiz, right, hopes Chuck Liddell has slowed down enough so this won't happen again.
In an era in which Lyoto Machida and Anderson Silva are openly petitioning management for heavyweight fights, the idea of Tito Ortiz trying to chip away at the ego of Chuck Liddell should underwhelm you like nothing else.
"I think if I call him out enough times, I think he'll be a man and step up," Ortiz told MMAWeekly. "Why wouldn't he? That's a huge fight and a big payday for him. It will be good."
Why wouldn't he? Because Liddell, unlike Ortiz, had a gamesman's attitude toward the sport: taking bouts that risked his guaranteed title bids, never turning down a fight and generally looking happy to be in there. He never headhunted graying fighters, something Ortiz does with alarming regularity.
After being slaughtered twice by Liddell, Ortiz has seen him softened up on successive occasions by Rashad Evans and Mauricio Rua. If you can't beat a fresh Liddell -- and he clearly could not -- then the next best thing must be to wait for an encouragingly bad MRI scan to come in before pursuing a third fight. Picking at a carcass doesn't flatter him.