Are injury delays a step forward for MMA?
October, 20, 2011
10/20/11
6:50
AM ET

By Chad Dundas
ESPN.com
Archive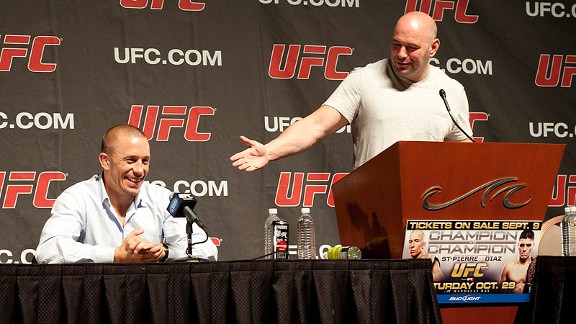 Kari Hubert/Zuffa LLC/Getty ImagesWould you really want to see Georges St. Pierre operate at less than full capacity?
There appears to be no end in sight for the so-called "UFC injury bug."
When
Georges St. Pierre
withdrew from UFC 137 this week with a sprained knee, he made it a clean sweep for the company's champions in the last year. During the most recent 12 months all six of the UFC's current titlists have -- at one time or another -- been felled by injury, duly scrambling the pay-per-view schedule and making 2011 feel even more marred by postponements and rescheduling than 2010.
By now, this seems like more than just a freak occurrence. Fans are frustrated -- imagine how promoters and the fighters themselves must feel -- and most everybody is looking for answers.
It seems unlikely that guys are just getting injured more often now than they were a few years ago, so what's the deal? Have the bigger paydays and higher stakes brought on by the sport's ever-increasing popularity made fighters less inclined to compete with nagging injuries? Is the UFC's still relatively new injury insurance policy encouraging them to bow out, when they otherwise might've pushed forward? In other words, are guys feeling less pressure to fight hurt?
I sure hope so.
Obviously, nobody likes it when fights like St. Pierre versus
Carlos Condit
get pushed back, but if fighters are being more cautious with their bodies and their overall health these days, that's all for the good. In a roundabout way, the mere fact that GSP doesn't have to come into a high-profile fight with Condit at 65 or 75 percent because of an injury shows that progress is being made in MMA's on-going march toward mainstream acceptance.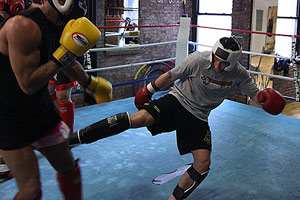 Dave Mandel for Sherdog.comFight fans are quickly learning no fighter emerges from training camp completely unscathed.
We've all heard the horror stories of guys coming into bouts hurt. We've heard the whispers of guys covering up injuries because they need a payday and the sheepish after-the-fact confessions from guys who took fights in the vain hope of earning enough to cover some much-needed surgery or rehab. If the sport is close to leaving those days in the past, I'm all for it.
One of MMA's most well-worn clichés is that you never come out of training camp perfectly healthy. To a certain extent that's true, but if MMA has advanced to the point where fighters now have the luxury of differentiating between minor aches and pains and real, debilitating injuries, what's to complain about?
Yes, it's a bummer that next weekend's already revamped UFC 137 card will now be truncated by one huge fight. The sting is even greater for people who had already bought tickets to go to the event or had this show specially marked on their PPV calendars.
On the other hand, the alternative would be much worse. If, as we're often told in MMA, fighter safety is paramount, then nobody wants to see St. Pierre -- or anyone, really -- thrust into the unfair and unsafe situation of having to compete when he is not able to perform (or defend himself) to his full capabilities.
The hard truth is that injuries are a part of the sport. Until training and sports medicine advance to the point where we can prevent or lessen them considerably, we should all get used to these postponements.
Nobody is going to celebrate when a fight we've all been waiting for gets dashed, but maybe we should at least acknowledge that, in weird way, it's an improvement on the old system.