The case for professional wrestling
October, 21, 2009
10/21/09
6:16
PM ET
By Jake Rossen/Sherdog.com
ESPN.com
Archive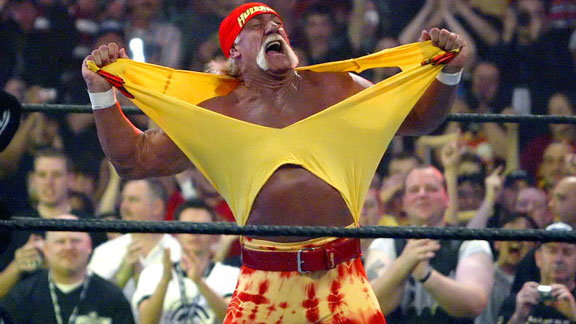 AP Photo/Chris Carlson"Listen up, brother: Ain't nothin' fake about these 24-inch pythons."
Earlier in the week, I dutifully reported the infection of MMA personalities and techniques in professional-wrestling theater: Sunday's TNA pay-per-view event had hybrid athlete Bobby Lashley enjoying a "submission" contest with Samoa Joe. While I found the idea moronic and expressed an ignorance of the appeal in watching someone apply fake grappling holds, I also petitioned readers to enlighten me. Choice excerpts -- including a winning submission -- below.
Tweet, tweet
Don't miss a moment of the latest MMA coverage from around the world. Follow us on Twitter and stay informed.
Join »
Short and sweet: For many, the stark reality of a real armbar is painful, hard and disturbing. The WWE variant is just cartoonish enough to remove the humanity and therefore the relatability. For those folks, that makes their own bloodlust easier to digest when they look in the mirror later.

-- Gary W.
The purpose of the "fake armbar" is simple: ENTERTAINMENT. Some people just want to be entertained rather that watch legit fighting. Some people prefer legit fighting to "sports entertainment." (See: yourself.) It's simply a preference … and one I am glad is afforded to me.

-- Ryan B.
I think that the reason organizations such as TNA and WWE are using more MMA moves, positions, finishes, fighter, etc., in professional wrestling is to target the people in their teens. If wrestling can blur the lines for young teens, they stand to keep at least some of their future money instead of losing them to MMA outright.

-- Tim L.
Pro wrestling and MMA have always been linked. If you go back and tune in to Hulk Hogan's matches, you can even see him throwing an armbar against some opponents. I think an armbar is just something that is, today, relevant in American society, so it's kind of predictable to see that kind of thing in American pro wrestling nowadays. They've been doing that with Japanese pro wrestling for ages, so it's not much of a shocker, really.

-- John
Relevant to society -- interesting. So will we see a wrestler float in on a giant, tin-foil coated balloon?
With that logic, why do people still watch "Bloodsport" when we have real fighting on TV? Why would someone read a novel about people surviving in the jungle when they could watch a reality show about it instead? The truth is, real life is pretty boring and fiction manipulates time and space so that we can see nothing but the good parts.

-- Rufus B.
This logic assumes wrestlers are better actors than Donald Gibb. How dare you.
A fake armbar serves to make it look real. What is worse is someone trying to do an awful neck crank that would never be used outside of a match between the Iron Sheik and Hulk Hogan. What would you rather watch: a torture rack or someone at least attempting to mimic MMA?

-- Ryan N.
Is there a third option?
A major aim of any wrestler is to have credible moves that the audience believes can win a match. MMA provides these. A "fake armbar" has new credibility in the eyes of the wrestling audience -- of which many also watch MMA -- and so we see it used to build tension or finish a wrestling match. As for grown men in role-playing situations, I'm assuming that you have an equal degree of deference for the cinema and stage, yes?

-- DK
You got me there. I'd definitely pick wrestling over anything directed by Jim Jarmusch.
And your winner:
Pro wrestling is feasible thanks to the overly artificial society we live in. We are surrounded by fakeness. We live in it. For many people, MMA is too real. It hits too close to home. Faking the sport of wrestling with pro wrestling is the same as faking submission grappling with acted-out submission grappling. The people who watch that don't want to watch MMA. They don't want to have to pay attention to details. So whether it's submission grappling, wrestling, boxing or Judo that's simulated in these shows, it's all the same principle.

-- Adam B.
Fair enough. Adam wins a UFC 100 DVD courtesy of Anchor Bay Home Entertainment, where the only fakery on display is attached to the ring-card girl. Enjoy.