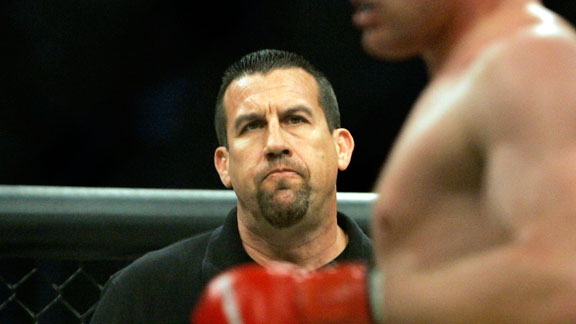 AP Photo/Jeff Chiu
An ultra-qualified ref who is already commissioned in the state of California? Nah, we'll pass.
No plans for Saturday night? Maybe you could hang out with John McCarthy: The sport's most recognizable official told Sherdog.com he won't be working UFC 104 in Los Angeles this weekend. This, despite having officiated several-hundred UFC bouts, being licensed in California and generally having as much business in between two angry prizefighters as anyone on the planet.
Tweet, tweet
Don't miss a moment of the latest MMA coverage from around the world. Follow us on Twitter and stay informed. Join »
You might guess that McCarthy's absence from the Octagon stems from his critical comments about the UFC during his broadcasting stint and after "retiring" from refereeing. Either the California Athletic Commission perceives a possible conflict of interest -- no official should comment on the business practices of fighters or promotions -- or the UFC has put the word out that it doesn't want him around.
If it's the former, the CSAC is correct in discouraging freelance employees from offering critiques -- but McCarthy was not a referee at the time. His role as a commentator was to form an opinion, and he shared it.
And if it's the latter? I find it unlikely the UFC is making edicts about officials. It would be a lurid, cheap move by a promotion that often has bemoaned boxing's lurid, cheap moves. But if it did feel like squeezing, the promotion is in luck: The CSAC has an open-door policy regarding controversy.