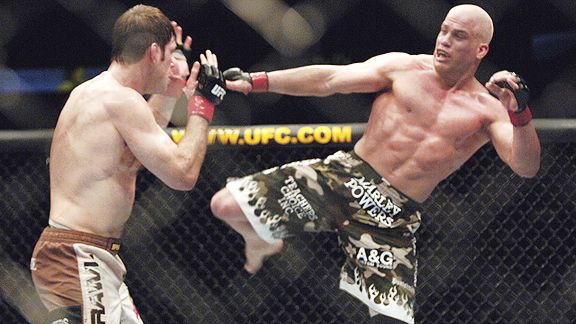 Ryan Born/WireImage
Tito Ortiz, right, will be at full strength when he meets Forrest Griffin on Nov. 21.
If you believe Tito Ortiz -- and who wouldn't trust that face -- then you accept the former UFC light heavyweight champion's recent performances have been diluted as a result of recurring back injury. (I would wager the competition getting better while Ortiz more or less stagnated had a little to do with it, too.)
Tweet, tweet
Don't miss a moment of the latest MMA coverage from around the world. Follow us on Twitter and stay informed. Join »
That will not be a factor for a Nov. 21 date against Forrest Griffin: Back surgery corrected his lingering problems and, according to Sport Illustrated's Josh Gross, Ortiz is beginning a seven-week training camp, his first since the procedure in 2008.
"After the Machida fight, I couldn't go a day without Vicodins," Ortiz told Gross. "And painkillers aren't the way to go."
Ortiz fought Griffin in April 2006: Though Ortiz won, Griffin impressed with his second- and third-round perseverance. I'm usually cool to rematches, but both men have taken different paths since the bout. It will be interesting to see which one culminates in a comeback.