Diaz second-guesses decision not to box
October, 27, 2011
10/27/11
5:26
AM ET

By Brett Okamoto
ESPN.com
Archive
LAS VEGAS -- Arguably no fighter in the world has been affected more by Zuffa's purchase of Strikeforce earlier this year than former welterweight champion
Nick Diaz
.
At the time, Diaz's contract included a stipulation that allowed him to box professionally. As one of the bigger names in mixed martial arts, Diaz was a high profile target to boxing promoters and it appeared he was headed down that road.
In May, boxing promoter Don Chagrin announced that Diaz would meet former super middleweight champion Jeff Lacy. Even though Zuffa, parent company of the UFC, had formally taken control of Strikeforce by then, Diaz would have been within his rights to accept the fight under the terms of his contract.
Instead, he was flown to Las Vegas that same month and offered a deal he apparently couldn't refuse by Zuffa brass. The 28-year-old signed an exclusive contract with the UFC, which included the promise of an immediate title fight against
Georges St. Pierre
in October.
Well, October is here and Diaz is not fighting St. Pierre for the title. He was, at first, pulled from that opportunity at UFC 137 because of multiple absences at news conferences and rescheduled to fight
B.J. Penn
. Now, as it happens, St. Pierre is off the card due to injury, so the fight would not have happened anyway.
Looking back on how everything has played out, Diaz admits if he could go back in time, he would. And he'd sign the boxing contract.
"If I had the chance to do it over again, I would have gone back with the boxing contract," Diaz told ESPN.com. "It would have paid me more money. I would have taken my punches, win or lose.
[+] Enlarge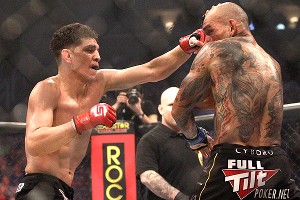 AP Photo/Jeff ChiuNick Diaz still has that itch to test himself in the boxing ring.
"Later, I'm sure [the UFC] would have had me back. In my opinion, I figure I would have made plenty of money in boxing and plenty of money later, coming back. It definitely would have worked out if I had done what I set out to do and go into pro boxing for a while."
Diaz has long wanted to test himself in professional boxing. His record in the sport stands at 1-0. He defeated Alfonso Rocha by unanimous decision in 2005 at 167 pounds.
It's not enough that many, including his opponent Saturday, B.J. Penn, call him perhaps the best boxer in mixed martial arts. To Diaz, that means nothing.
"This is mixed martial arts," Diaz said. "I don't think it has anything to do with boxing. Everything changes. Your stance is different. You have to defend the takedown. As far as boxing goes, if we had a boxing match, I'd probably beat most of the guys in 185, 170 and 155 divisions."
So, what does any of this mean? It means that, clearly, the itch to box has not left Diaz's system. It also might allude to the fact he's not 100 percent pleased with how this return to the UFC has gone.
He had expected to fight St. Pierre for the title -- and everything that comes with holding the title, including the payday. Instead, he now has to beat a "friend" of his in Penn, whom he admitted he'd rather not fight if given the choice.
Then, he likely has to wait for his chance against St. Pierre, as the UFC has already announced
Carlos Condit
will get that opportunity first, when the champion is healthy.
Basically, unless Diaz is holding the UFC belt by the time his new contract under the promotion runs out, don't be surprised if he jumps ship for the squared circle. It's certainly a passion he hasn't forgotten about.