Dana White was the best car salesman on the lot. Until Chael Sonnen came along.
White used his enthusiasm, a powerlifting hobby and a razor-run head to transform himself into perhaps the most effective and polished show barker in the history of prizefighting. You can argue Don King did it better, but he was more cartoon than man. White, with his million-plus Twitter followers, has cultivated the persona of the promoter-next-door. He'll shake your hand, give you tickets and tell you when he thought a fight stunk. His recognition means that he often does most of the heavy lifting when it comes to hyping a bout -- handy when a sizable portion of your talent doesn't speak English.
But White looks positively meek next to Sonnen, the unlikely middleweight contender who has seized the opportunity of a title shot by going on a verbal rampage against both his opponent, Anderson Silva, as well as people who have absolutely nothing to do with him. (Lance Armstrong was a recent victim.) Some if it is clever, some of it is completely nonsensical and all of it is at maximum volume. People are aware of Sonnen, and they're aware of the fight.
This is good, since people are plenty aware of Silva -- specifically, how much his bizarre performance against Demian Maia at UFC 112 in April stunk. The UFC needed a challenger who was going to convince audiences that Silva wouldn't be allowed to dance and have his fun. If Sonnen has managed to do that, it's an achievement on par with actually beating him. But when was the last time a company needed to promote the idea that a champion would -- swear to God, we mean it this time -- actually fight?
Josh Hedges/Zuffa/UFC
When it comes to trash talk, Chael Sonnen, right, always seems to have a leg up on the competition.
What: UFC 117: Silva vs. Sonnen, an 11-bout card from the Oracle Arena in Oakland, Calif.
When: Saturday, Aug. 7 at 10 p.m. ET on pay-per-view
Why you should care: Because the UFC's talking heads are being fairly accurate in describing it as "the most stacked fight card of the year": Jon Fitch and Thiago Alves are the two best welterweights not named St. Pierre; Roy Nelson will have an opportunity to score one for the centrally obese with a good showing against Junior dos Santos; and Matt Hughes will have his hands full with Renzo Gracie's standout student Ricardo Almeida.
Fight of the night: Dustin Hazelett versus Rick Story, a nice jiu-jitsu/wrestler matchup that will probably have some careless action standing.
Hype quote of the show: Everything Sonnen has said from April onward.
Questions: UFC 117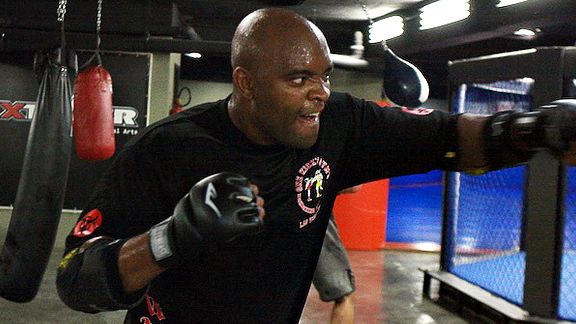 Marcelo Alonso/Sherdog.com
Don't make Anderson Silva angry; Chael Sonnen might not like Silva when he's angry.
Q: Can Silva get the crowd back on his side?
A: Under most circumstances, Sonnen would be entering Oakland as the heavy heel. He's brash, condescending and dismissive of everyone, including Lance Armstrong ("He gave himself cancer") and infants ("Babies are dumb and ugly").
I made one of those up. But regardless, Sonnen is not endearing. It may not matter, though. With Silva's string of performances that had him alternately gyrating, clowning and throwing the occasional punch, he's become the worst kind of anomaly -- the champion fighter who consistently disappoints. Sonnen will push the action, forcing Silva to react. We'll probably get an exciting fight.
But what about Silva's future challenges? Will he stall and seize against Yushin Okami? Vitor Belfort? Fans may appreciate an offensive Silva on Saturday, but it's no guarantee that's the guy we'll get next time.
Q: Has Sonnen patched his submission game?
A: Sonnen is a terrific Division I wrestler with a horrible leak: He's far too susceptible to submissions, making his preferred position on top just as dangerous for him as it is for the guy on the bottom. His past four losses all ended with him getting torqued, and Silva is far from a warm body on the ground -- he's a black belt under the Nogueiras, who have submitted BJJ black belt Travis Lutter and a notoriously hard-to-catch Dan Henderson. If Sonnen has worked on his submission defense, he can create lots of problems for Silva. If not, his night won't last 10 minutes.
Q: Is Nelson as a No. 1 contender a good thing?
A: In an effort to bring Saturday's Nelson-dos Santos fight up from the margins, White told "MMA Live" last week that the winner would be slotted against the winner of October's Brock Lesnar-Cain Velasquez bout. Considering that dos Santos' biggest question mark is his ground game -- and considering Nelson brings exactly that -- it's not impossible to believe Nelson might be fighting for a title in 2011.
How you digest that depends on your familiarity with MMA. One segment will be amused that Nelson packs a well-rounded fighter underneath his Joe Couch frame; a more casual audience will believe his gut is indicative of the UFC's talent level. Fortunately, the former is beginning to outpace the latter.
Q: Is Hughes treading water?
A: Hughes, one of the UFC's more dominating champions from 2002 to 2006, was knocked off his perch in fights with Georges St. Pierre and Alves -- strong indications that the 36-year-old won't be in any title picture moving forward. He's done well outside the top five, however, with wins over Matt Serra and Gracie in fights that weren't relevant beyond the 15 minutes they existed. Post title, Hughes has become more of an attraction than a contender, and there's nothing wrong with that; had Chuck Liddell been slotted in similar fashion, he might still be around.
Q: Is the welterweig
ht division stuck on "repeat"?
A: In December, champion St. Pierre fights Josh Koscheck for a second time. On Saturday, Fitch and Alves will fight again to determine who might idle in line after Jake Shields. If St. Pierre succeeds against Koscheck and Shields, he'll fight Alves or Fitch -- both rematches.
It's no wonder the UFC was so aggressive in pursuing Shields, who is one of the few faces left that St. Pierre hasn't run over. But if St. Pierre's 2010-11 schedule involves more rematches, it might be time to coerce him into another 1,000 calories per day; St. Pierre moving to middleweight would free up the 170-pound division to get interesting again.
Red Ink: Silva versus Sonnen
Champions are supposed to be liked. There's a built-in respect and admiration for anyone who's navigated a tough road to earn something valuable. There's even more attention paid when he's forced to defend it.
Silva is not one of those champions. He is in the middle -- or near the end -- of a legendary UFC run, with 11 consecutive victories and an unprecedented number of title defenses. His striking is so well developed that he makes seasoned professionals look foolish. He seems to have a sense of humor. The problem is his sheer disinterest in the whole thing.
Silva is capable of performing only when he feels like it, which isn't often. It's not that the fights with Thales Leites, Patrick Cote or Maia were that staggeringly dull; it's that audiences know what Silva is capable of and feel fooled when he chooses not to engage. To be a Silva fan is to know what it felt like when Eddie Murphy decided to start doing films for small, drooling children. It's all somehow worse when you know someone with real ability is phoning it in.
Sonnen will surely back Silva into a corner, but it's probably not the kind of fight that will reveal anything about Silva's motivations. (Eighteen months ago, Sonnen was 1-3 in the UFC; he deserves his shot, but he's not a killer.) Silva shouldn't have to wait for an urgent fighter to face him; he should feel his own urgency to perform to the standards he set for himself.
What it means: For Sonnen, an opportunity to roadblock Silva's record streak and pull a Fabricio Werdum; for Silva, a chance to prove the Maia fight was a fluke.
Might look like: Silva versus Lutter, with Silva getting taken down and controlled in the first round before an exhausted Lutter tapped. The difference? Sonnen won't get tired.
Wild card: Mark Munoz has been training with Silva, presumably with an eye on boosting Silva's wrestling and wrestling defense. Maybe Sonnen won't find the takedowns as easy to come by as he expects.
Who wins: Silva's comfort zone on the feet leaves Sonnen little chance of winning the fight there, and Sonnen's comfort zone on the ground gives Silva plenty of opportunity to test his opponent's submission IQ. It's a lopsided trade. Silva by submission.