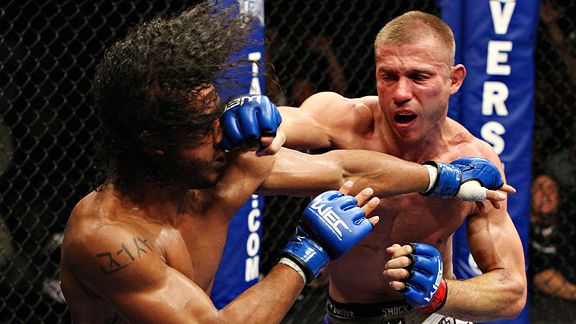 Josh Hedges/WEC/Zuffa
Donald Cerrone, right, gave as good as (or better than) he got from Benson Henderson.
And suddenly, construction work begins to look a lot more appealing: Ben Henderson, a probable fight of the year finalist for his efforts in a win against Donald Cerrone at WEC 43 on Saturday, celebrated by collapsing in the locker room and being shuttled to three different emergency rooms. Originally believed to have suffered a detached retina, Henderson's condition was upgraded to simply and blissfully "messed up." His eye -- the recipient of a Cerrone kick -- still requires a diagnosis; he was put on IV fluids to replace the water lost during the five-round fight.
Tweet, tweet
Don't miss a moment of the latest MMA coverage from around the world. Follow us on Twitter and stay informed. Join »
Most fighters probably would tell you they'd do the actual fighting for free; it's the consequences that require compensation.
Scoring calculator FightMetric, meanwhile, had the bout tallied as a draw using the sport's 10-point must system. I still maintain the decision comes down to whether Henderson's two minutes of control and striking trumps Cerrone's 90 seconds spent locking him up in submission attempts, all in the first round. It's an obvious rematch candidate -- and possibly one worthy of a pay-per-view campaign.