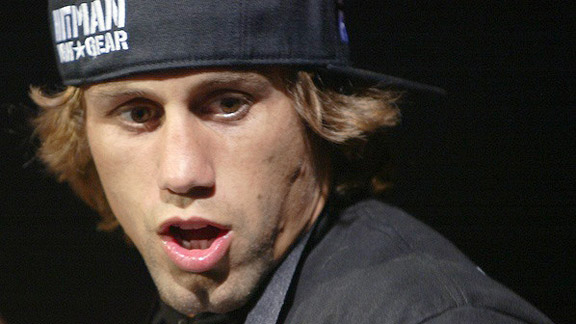 Jeff Sherwood/Sherdog.com
Urijah Faber can buy a lot of Ramen with the earnings from his latest WEC contract.
If you're the modestly successful World Extreme Cagefighting, what do you do without Urijah Faber? The former 145-pound champion has headlined several of the company's most-viewed telecasts on the Versus network and appears to be the most charismatic and marketable of its fighters.
Tweet, tweet
Don't miss a moment of the latest MMA coverage from around the world. Follow us on Twitter and stay informed. Join »
The WEC didn't want to find out: The promotion signed Faber to a fresh six-fight deal that should keep him employed until the Mayan apocalypse of 2012. (Oh, it's happening, folks.) Faber figures to remain a key figure in the WEC's plans for expansion, which may include the addition of a pay-per-view model next year -- and, hopefully, the subtraction of a Ramen-noodle subsistence for cash-strapped fighters.
With WEC 43 scheduled for Saturday, recurring talk suggests the promotion is some sort of extraneous body part that the sport's evolution should have shaved off by now. The truth: There's a market for a different, small-guy brand, but it may need more than just the muscle provided by Versus to make it. For a show that has sometimes pulled over a million viewers, though, I wonder how the promotion would be perceived if it weren't chaired by Zuffa. I suspect most would congratulate it as a plucky upstart, not a smaller and weaker little brother.