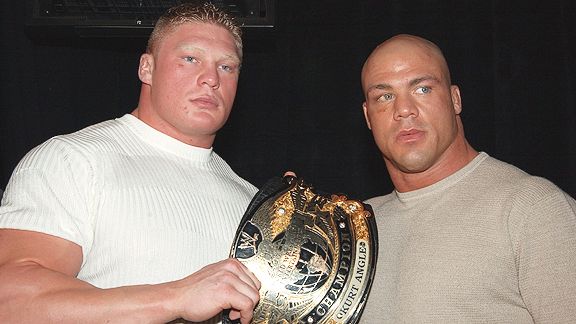 Theo Wargo/WireImage
Brock Lesnar, left, might be years removed from the WWE, but he still knows how to sell a show.
Humility is not a Brock Lesnar trademark. You get the sense that he always walked onto the football field or wrestling mat with the expectation he would be arrested for manslaughter.
The same holds true for his MMA pursuits: Lesnar told the Las Vegas Sun over the weekend that Nov. 21 challenger Shane Carwin gives him little cause for concern.
"He's a tough guy. He's undefeated, but some of the guys he's beaten aren't worthy of having on your record," Lesnar said. "He hasn't fought anybody. He's fought [Gabriel] Gonzaga, so I really think he's 1-0."
Intriguing logic. Carwin's supporters might reply that victories over a 46-year-old Randy Couture and 3-6 Min Soo Kim don't exactly constitute the greater glory. But this is Lesnar's stock -- the ornery jock dismissive of anyone else's chances. The WWE stint may have been an athletic lowlight, but it taught him how to sell tickets.