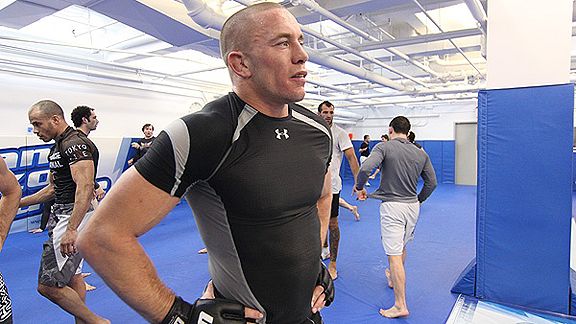 Dave Mandel for Sherdog.com
If Georges St. Pierre wants a shot at Anderson Silva, it may be up to him to change weight classes.
After tossing out public thoughts about moving up to heavyweight to challenge Frank Mir -- bad idea -- and to cutting to 170 pounds to face Georges St. Pierre -- almost as bad an idea -- Anderson Silva has finally found a happy medium: staying exactly where he is.
"If you want to beat me up, make weight and come fight me in my category, my division," he said during a conference call Tuesday. (More accurately, this is what translator Ed Soares said Tuesday; Anderson might have been talking about hamburgers.)
This is a deadening attitude considering Silva's near-complete lack of opposition at 185 pounds. Assuming he beats Chael Sonnen on Aug. 7, only Vitor Belfort is left for Silva. After that, we would be treated to a series of pointless rematches or bouts against talent that would top out at the excitement level of St. Pierre-Dan Hardy. Joe Rogan couldn't pop his eyes out far enough to convince anyone that Alan Belcher has a chance against Silva.
The only potential opponents who make sense from historical and audience-pleasing perspectives are St. Pierre and Mauricio Rua. If Silva is unwilling to consider either one, he'd be better off retiring as the only undefeated fighter with more than 10 fights in UFC history. That says something. Fighting underqualified opposition does not.