An athletic portfolio that includes a career as a "strongman" -- carnival spectacle that exists only to fuel the 3 a.m. programming block -- is not usually an indication of future success in MMA. Strong doesn't teach you footwork, strong doesn't necessarily lead to damaging strikes and strong means squat when someone has their arms around your neck.
[+] Enlarge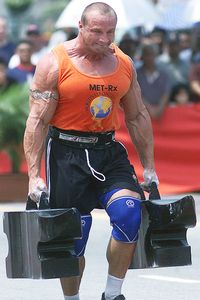 Ahmad Yusni/AFP/Getty Images
Can Mariusz Pudzianowski put those muscles to good use inside the cage?
If any of this bothers Mariusz Pudzianowski, he's doing an excellent job of hiding it: The Polish-born strongman, who has signed with Polish promotion KSW for a mixed-style debut on Dec. 11, spoke with confidence to Fighters Only about his strategizing. It is ominously vague.
"I feel comfortable in street fighting techniques," he told Artur Przybysz, who has no vowels in his last name. "I go out and do what I have to do … A little bit of wrestling, judo, a little bit of everything."
That should do it. In fairness, Pudzianowski does have some semi-tangible background in Kyokushin Karate, a base striking style that didn't hurt Bas Rutten or Georges St. Pierre any. And if being a strongman has any application at all, he'd be the one to benefit: The 32-year-old has won more of those competitions -- and tossed more beer kegs -- than anyone.
If the fighting doesn't work out, there's always the music career to fall back on.