What was supposed to happen happened: Topping UFC Fight Night 19 from Oklahoma City on Wednesday were two main-attraction fights that more or less played to scripts written by fans and analysts.
Gray Maynard, an active and bullying wrestler, was able to pressure 12-month absentee Roger Huerta into dropping a close split decision; after suffering the effects of solid striking, Nate Diaz capitalized on a lazy takedown attempt and squeezed Melvin Guillard's neck until his eyes bulged.
Lack of suspense aside, you can't complain much about more than 50 continuous minutes of fighting. Suffering through "Saw VI" previews is a small price to pay.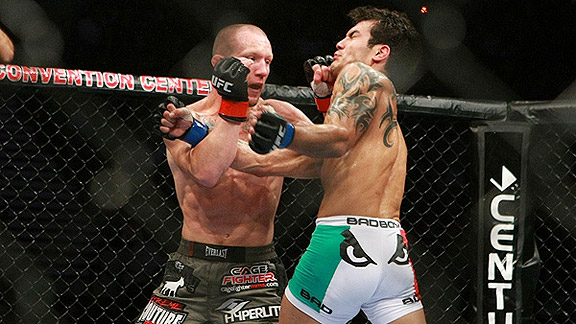 Dave Mandel/Sherdog.com
Gray Maynard's bullish attacks proved too much for Roger Huerta.
Next for Diaz: A slightly inflamed ego from breaking a two-fight losing streak; maybe a bout with Joe Lauzon.
Next for Guillard: A review of some fundamentals: Don't charge in like a bull with your head down and stick your neck into the armpit of a jiu-jitsu black belt. Failing that, opposing Sam Stout in a guaranteed stand-up highlight clip.
Next for Maynard: Some busywork until he can challenge the winner of B.J. Penn-Diego Sanchez for the 155-pound title. (Hopefully with a finish: His past five wins are via decision.)
Next for Huerta: More fights. You can act when you're old and rusted out.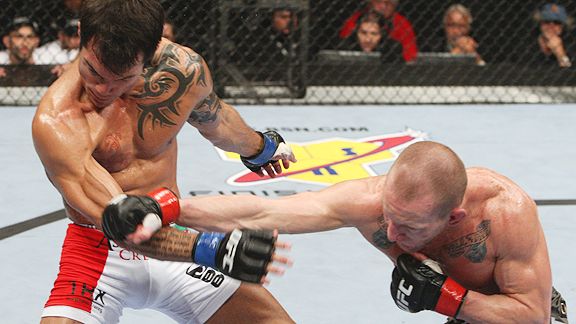 Josh Hedges/Zuffa/UFC
Roger Huerta, left, didn't exactly look like a fighter ready to make a run for a title.
Patience of the night award: Kenny Florian, for affably attempting to get between Nate Quarry and Tim Credeur during an extended endorphin exchange after their exciting three-rounder.
The ignoring any rivalries in business award: Time Warner Cable, for advertising Saturday's Floyd Mayweather-Juan Manuel Marquez bout repeatedly during the Spike programming block. (It will air opposite UFC 103.)
The left hand/right hand award: For the narration over a Huerta video package that promised, "Huerta is ready to make a run at the UFC lightweight title."
The being Mike Goldberg award: Mike Goldberg, for exclaiming, "[Carlos] Condit is in huge trouble here, Joe!" to fill-in broadcaster Florian. And they say the guy is a robot.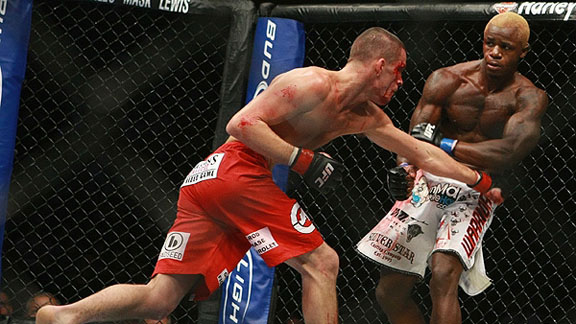 Dave Mandel/Sherdog.com
Melvin Guillard, right, had his moments against Nate Diaz.
Q: Is Melvin Guillard about to get discouraged?
A: Guillard showed some punishing, powerful hands and credible takedown defense in the first five minutes against Diaz. If he's motivated and continues to improve, his ability to be a headache in the lightweight division will grow.
Q: Is Roger Huerta making a mistake?
A: In spite of an extended layoff and a very tough opponent in Maynard, Huerta looked like a handful. The UFC is still in dire need of a Spanish-language superstar to unlock that market. Shouldn't he relegate his acting aspirations to the margins until he exhausts his potential in MMA?
Q: Should Kenny Florian avoid getting hit in the head?
A: Substituting for Joe Rogan on color commentary, Florian was articulate and easy to follow and brought in a fighter's perspective without the usual accompanying speech impediment. If he can avoid repeated concussions, he has a nice postfight gig ahead of him.