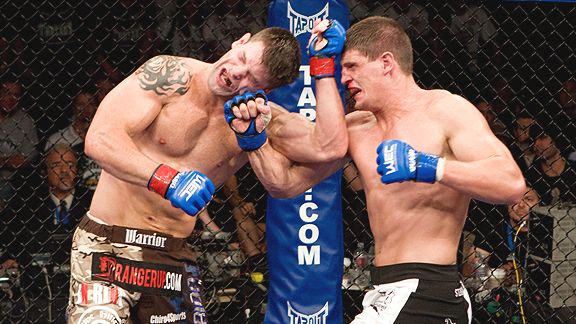 Josh Hedges/Zuffa/UFC
Expect more of this when Steve Cantwell, right, and Brian Stann meet for the third time.
How Melvin Guillard would fare against Nate Diaz is not a question that's kept a lot of observers up at night: The Octagon-.500 Guillard is probably going to get twisted into a neat little knot. But a free altercation is a free altercation, and the latest Spike broadcast to kick off the latest season of "The Ultimate Fighter" has an undercard worth tuning in for.
What: UFC Fight Night 19: Diaz versus Guillard, an 11-bout card from the Cox Convention Center in Oklahoma City.
When: Wednesday, Sept. 16, at 8 p.m. ET on Spike
Tweet, tweet
Don't miss a moment of the latest MMA coverage from around the world. Follow us on Twitter and stay informed. Join »
Why you should care: Because there's no telling which Roger Huerta will show up against Gray Maynard -- flat contract completist or animal; because Tim Credeur has quietly built up a perfect 3-0 record in the promotion and could see that punctured by Nate Quarry; and because everyone is sleeping on Brock Larson, all single fast-twitch muscle fibers and athletic enough to give anyone in the welterweight division a sleepless night.
Fight of the night: If their first two fights are any indication, Steve Cantwell/Brian Stann, destined to be a four-ounce boxing match.
Pre-emptive complaint: Larson, 26-2, exciting and undefeated for two years, is still a "may not be broadcast" athlete?
Hype quote of the show: "I've had herpes since I was a kid. When you get tired in a camp, it pops up. The PC [term] is 'cold sore.'" --Walking, talking grade-school educational film Gray Maynard on prefight battle wounds
Three questions: UFC Fight Night 19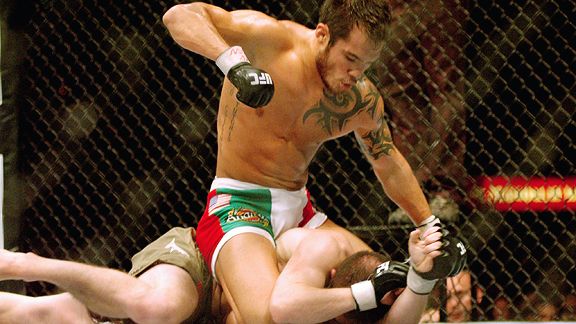 Paul Hernandez/Icon SMI
Will Roger Huerta go out on top in his final Octagon performance?
Q: Is Roger Huerta an actor, a model or a fighter?
A: More than a year after losing a decision to Kenny Florian, Huerta has avoided press attention; instead of signing a new UFC deal, he opted to concentrate on an acting career. Swell if he can make a go of it -- though most can't -- but where's his head? Fighting requires a certain clinical mentality that's absent from the manicured world of casting calls and performing. You couldn't ask for two more disparate lifestyles. Gray Maynard does not care about his head shot.
Q: Will Melvin Guillard's anti-wrestling wrestling work against Nate Diaz?
A: Against Gleison Tibau in a controversial spring '09 bout -- one in which he took a contested decision -- Guillard struggled mightily to avoid being placed on his back but expended a lot of energy doing it. Diaz is a few inches taller and has a spider/insect relationship to anyone he's trying to plant on the ground: Draw them in, contain and smother. If Guillard can stay off of his back, Diaz might soon join his brother in Strikeforce.
Q: Will Brock Larson ever get any respect?
A: Larson is 32 years old. He has only two losses in 28 fights. Nobody has made it out of the first round against him in over two years.
So where's the attention? Larson's muscular attack makes him one of the more formidable athletes in the welterweight division. After contending for the WEC title in 2007 -- a loss to Carlos Condit -- he hasn't yet been granted an opportunity to show whether he belongs in the same discussion as Mike Swick, Martin Kampmann and the rest for Georges St. Pierre's title. Fighting the nameless Mike Pierce isn't going to do much to push him in that direction.
For a division as barren as this one -- GSP has beaten virtually everyone of note -- Larson's UFC run has been on a treadmill.
Red Ink: Diaz versus Guillard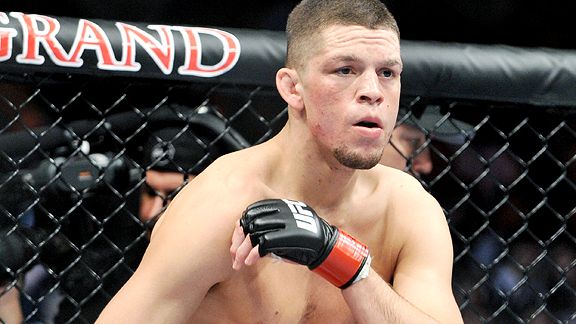 Jon Kopaloff/Getty Images
Going 0-2 in last two fights earned Nate Diaz the right to headline a UFC Fight Night card.
Quickly falling victim to another live Spike event on Nov. 14 headlined by one of the most popular mixed martial artists ever -- Randy Couture -- is a top-lining fight that suddenly seems flimsy in comparison: Nate Diaz versus Melvin Guillard, a bout that caps UFC Fight Night 19.
After winning a season of "The Ultimate Fighter," Nate Diaz rattled off three consecutive submission victories and appeared to be a more compact version of brother Nick -- permanently furrowed brow and all. But with an escalation in competition came diminishing returns. Diaz, who worked for 45 minutes total in his last three fights, looked at times as though he was sorely lacking in strength training.
This is not a problem afflicting Melvin Guillard, who may not possess even a fraction of Diaz's ability on the mat but packs an enormously powerful punch and is getting better at emulating Chuck Liddell's hydraulic-core anti-wrestling skill. This will probably not be enough to fend off Diaz, and he's got quicksand in store if he can't. There's little suspense, but you get what you pay for in a main event.
Might look like: Nick Diaz versus compact striker K.J. Noons -- an undesirable outcome.
Who wins: Diaz. Guillard is unlikely to find Diaz's jaw and isn't going to last long in a scramble.