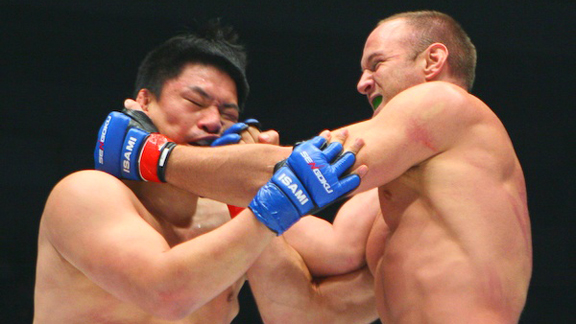 Daniel Herbertson/Sherdog.com
Nothing good can come of 44-year-old Don Frye stepping into the cage with Dan Herman.
Bouncing himself from an Aug. 28 fight against Muhammed Lawal for undisclosed reasons, Don Frye has agreed to face promising heavyweight Dave "Pee Wee" Herman at Shark Fights 6 in Amarillo, Texas, on Sept. 12, reports FiveOuncesofPain.
This space's fondness for aging veterans taking on younger, faster fighters is well-documented at this point. (Pithy version: It sucks.) The 44-year-old Frye should be fighting osteoporosis, not a 6-foot-5 24-year-old with 10 first-round stoppages to his credit. Tough, old and stubborn is a bad combination.