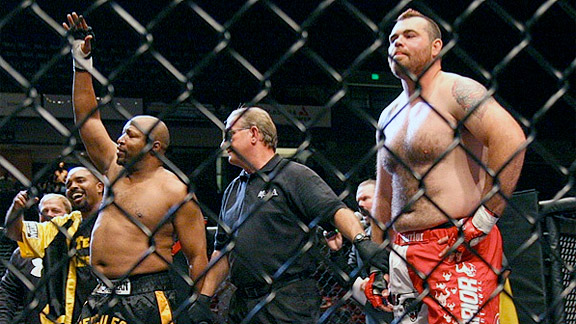 Fred Beeson/Sherdog.com
Tim Sylvia's loss to Ray Mercer demonstrated exactly how far the mighty are capable of falling.
Only a few months removed from one of the most embarrassing moments in the sport's short history -- a KO loss to geriatric boxer Ray Mercer, who was once handled with ease by street brawler Kimbo Slice -- Tim Sylvia is looking for a return to form. (If you're wondering what form that is, your guess is as good as mine.)
According to FiveOuncesofPain, Sylvia will enter an Adrenaline event Sept. 18 against Jason Riley, a largely anonymous heavyweight with a regional 11-1 record. Sylvia's going from a UFC championship and large-scale paydays to practically fighting in barns on public access television is one of the more precipitous drops we've seen. It has some strange parallels to the fall of Ricco Rodriguez, who was knocked out badly by Sylvia and went on a sandbagging circuit from which he has yet to escape.
The Riley fight is presumably intended to be a confidence-booster. It may work for Sylvia. It's less likely to work for his fans.